Instagramers apoya la Undie Party de Desigual en Instagram
.
Desigual vuelve a sorprender a todos sus fans con una manera original y única de pasarlo bien: The Undie Party. Instagramers,  a través de sus grupos locales en San Francisco, participará por primera vez en la promoción del original evento a través de Instagram.
.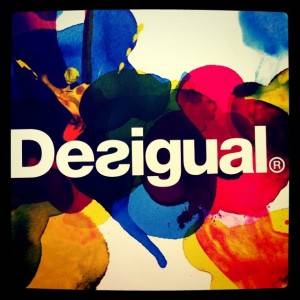 El próximo viernes 2 de marzo, a las 9.00 h de la mañana, la marca española vestirá GRATIS a las 100 primeras personas que entren en ropa interior en la tienda de San Francisco.
Esta innovadora campaña ya se ha celebrado durante las últimas temporadas en diferentes ciudades como Barcelona, Madrid, Berlín, Londres, París, Ámsterdam, Lisboa e incluso en pleno Soho de Nueva York. Ahora es el turno de San Francisco, e Instagramers participará de primera mano en el evento.
Los primeros Undie Parties llegarán a la puerta de la tienda Desigual a media noche para asegurarse un puesto en la cola, ya que solo los 100 primeros se llevarán el outfit de dos piezas cuando las puertas se abran a las 9 am.
Dirección de la Tienda de Desigual San Francisco
101 Powell Street, San Francisco, CA 94108
.
Los tres ganadores del concurso en Instagram ,podrán llegar más tarde que las 9 ya que Desigual nosotros les garantizará un sitio en la cola para que recojan su regalo.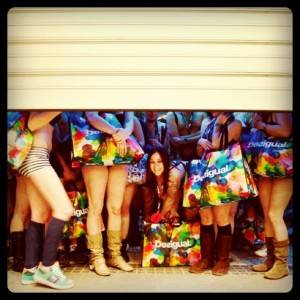 ¿Cómo participar en el concurso?
Participa entre el 22 y el 29 de Febrero de 2012. (Si vives en San Francisco y podrás participar claro!)
Comparte imágenes de 'Desigual' (tu prenda favorita, logo, tiendas, etc.) vía Instagram.
Etiquétalas con los hashtags  #undieparty and #desigual. También puedes seguir el perfil oficial de @desigual.
Las 3 fotos con más 'Likes' ganaran un pase especial para asistir a la Undie Party y recoger su outfit gratuito!*
Recuerda que este concurso está basado en fotografías realizadas para Instagram, así que buscamos los mejores 'shoots' tomados con vuestros iPhones. Además, pueden ser fotos que ya tengas publicadas, sólo tienes que añadir los hashtags.
Nuestro grupo de @igerssf está listo para animar a todos los igers quieran participar, ready?
.
@philgonzalez
.
Puedes encontrar más info:
Para más información y consultar las Condiciones Legales visita desigual.com/undieparty
Conoce las comunidades Desigual en facebook.com/desigual y twitter.com/desigual_USA
Mira aquí el video de anteriores Undie Party de Desigual.