Instagramers Madrid te invita a The Biggest Instameet en Flash Flash Madrid
.
El próximo día miércoles 21 de noviembre es la fecha elegida para celebrar nuestro cuarto Instameet en nuestro lugar de quedadas favorito, el Flash Flash Madrid. ¡No te lo pierdas!
.
El evento pretende ser la mayor reunión de usuarios de Instagram en el mundo hasta la fecha. Al menos, lo vamos a intentar… El establecimiento que apoyó Instagramers Madrid en las dos primeras citas en el 2011 vuelve a apostar en Instagram con una quedada sin precedentes.
¡Sorprendente, Divertida y Multitudinaria!
The Biggest Instameet en Flash Flash Madrid
. 
Hasta la fecha, la mayor concentración registrada en una quedada de Instagramers en el mundo ha sido probablemente el #SummerMeet de Instagramers Barcelona en el Hotel Arts con unas 220 personas, seguida por el primer congreso de Instagramers con unas doscientas personas. Vamos a tratar de superarnos de nuevo convocando #TheBiggestInstameet en Flash Flash Madrid, una de las "tortillerías" más originales y desde luego más fotográficas del planeta.
.
!!!Gana un viaje de una semana a Nueva York para dos personas, disfruta del catering y de una auténtica Fiesta con DJ¡¡¡
El día 21 de Noviembre procuraremos pasar un momento especial con muchas sorpresas. Desde las 20.00 y hasta las 24.00, estáis todos invitados a degustar cócteles y generoso picoteo (los que habéis participado ya, sabéis que no salimos con hambre, ni sed!) amenizado por una sesión de música de la cadena de TV @SolMusica.
Durante la noche, Flash Flash Madrid sorteará en riguroso directo y de una mano inocente, un viaje de una semana a Nueva York para dos personas.
¡Porque queremos celebrarlo a lo grande!
.
¿Cómo participar al sorteo del viaje? ¡Es muy fácil!
.
1) Sube todas las fotos que quieras a Instagram sobre la temática del "Flash" antes del domingo 18 de Noviembre a las 23.59.59.  Tu participación se integrará a las participaciones recibidas con anterioridad al concurso del viaje Flash Flash Madrid durante este año 2012 (ver todas las fotos enviadas en esta galería)
.2) Usa las etiquetas #concursoflashmadrid #igersmadrid y entrarás directamente en el bombo del sorteo.
3) Hazte seguidor de Flash Flash Madrid (@flashflashmad en Instagram y en Facebook y confirmanos tu participación al concurso con un mensajito a través de una de las plataformas (Instagram está teniendo problemas últimamente con las etiquetas y preferimos prevenir que curar)
4) Cada participante tendrá un acceso directo al bombo del sorteo.
5) Además los autores de las 5 de las fotos más originales elegidas por el equipo Flash, ganarán una cena para dos personas.
.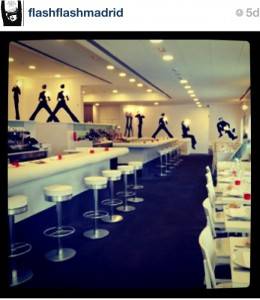 ¿Cómo apuntarte a The Biggest Instameet?
El Flash Flash Madrid dedicará su establecimiento en exclusiva a #TheBiggestInstameet pero siempre es bueno apuntarte a través de la página de Facebook de Instagramers Madrid donde hemos creado el evento The Biggest Instameet, dejando constancia de tu nick. Es útil para prever la cantidad de invitados a recibir. Aforo 'limitado' a 400 personas.
Aunque la entrada sea libre, el único requisito será ser seguidor de FlashFlash Madrid en Facebook e Instagram.
Así que recuerda!
– Sigue FlashFlash Madrid en Instagram, Facebook o Twitter.
– Confirmarnos tu presencia en el evento The Biggest Instameet que hemos creado en el Facebook Instagramers Madrid.
– Participa en el concurso si quieres ganar el viaje!!!
– Ver artículo sobre The Biggest Instameet en el Blog de Victor
. 
¡Te esperamos el miércoles 21 de Noviembre!
¡Let's Instagram Madrid!
¡Let's Flash Flash Madrid!
@igersMadrid
.
Fotos: @bertho y @flashflashmad