Hejorama, the social media platform for curious and adventurous travelers
..
Hejorama is a social media platform with inspiring content for curious and adventurous travelers and I thought it may definitely interest our Instagramers friends too!
.
More than an activity, travel is to Hejorama Team a lifestyle of discovering new cultures and meeting new people. Hejorama is a cool website created 5 years ago by three travel loving Parisians as a social network for people to share they travel stories and review addresses. It was relaunched 2 years ago like an online magazine with several community projects like the Disposable Stories, the interactive HejoMap and most recently the Instagram project.
They also organize random and creative adventures like that time when they went to look for giant rabbits in Belgium. That's the Hejorama spirit! We decided to know more about this cool project based on images and pics.
.
How did you discover yourself Instagram?
.
We started using Instagram when it was finally launched on Android, although some people from the team were already using it when Alex registered the @hejorama account from his android phone. He quickly realized that he would be a poor photographer to take care of it and had no time to manage it.
He joked about it on Twitter and one of our followers responded that they would take care of it for us. That's when the idea of having various random people taking the photos sparked in his mind. A bit like what Sweden is doing with their @Sweden account on Twitter. It was the perfect way to extend digitally our Disposable Stories project for which we sent disposable cameras around the world with people taking 5 photos before passing it along.
.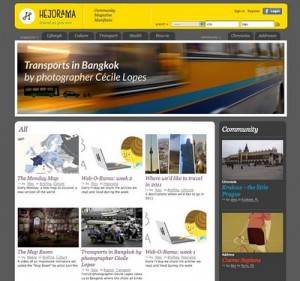 Instagram is definitely a powerful resource to promote tourism. How do you integrate IG into your Hejorama services?
.
We want to give people the chance to travel without moving by watching other people photos. Our Instagramers (or Hejogramers as we call them) take photos from various places and it changes every couple of days. This way, our Instagram feed will take you around the world with every 5 photos.
We have integrated the photos on our website using the API in a very simple page that shows the 5 photos of every person that took photos for us. It's available here  and will be improved in the coming weeks to make it more interactive. This project is a great way to grow our community, so far we've had some brilliant contributors in the past 3 months from places like Italy, South Africa, Korea to even at Burning Man. More to come!
We also take photos ourselves during our own trips or when tourism boards invite us for instance. This gives us a chance to share with our followers and community what Hejorama is up to.
.
Which are the other photo social feed used by Hejorama?
.
Why use anything else? Instagram is perfect for us and we don't want to waste time/energy managing more social networks. We have limited resources so we need to be efficient. Last year, we worked a bit with our friends at Loopcam and heard good things about EyeEm but for now we are focused on growing on IG.
..
Which are the next steps in integrating Instagram in your strategy?
.
We are going to improve the Instagram page on Hejorama.com first and then possibly integrate it with our interactive mapping project HejoMap. As a general rule we try to link all our projects together. We will also regularly publish selections of the best photos from our feed in the magazine part of the website. Since this is a community project, we're also always on the look out for new people we can collaborate with to join in the fun and keep this global pass-it-on project going. We have a few more ideas but it's too early to talk about it. lol.
.
Long life to @hejorama!
@philgonzalez
.
Hejorama Links on Social Media:
https://twitter.com/hejorama
https://www.facebook.com/hejorama
https://vimeo.com/hejorama
https://web.stagram.com/n/hejorama/