How to organize your wedding on Instagram?
As you may have noticed, weddings are starting to be a recurrent and common topic on Instagram, and with reason! 
.
They are full of picture perfect opportunities; love is in the air, people are dressed to impress and happiness just oozes from every single picture taken.  An Instagram wedding can be a really cool way to involve your guests during the days leading to the event and also to share your best moments with people who will not be able to attend.
 .
During a wedding I attended last year I still remember taking a bunch of pictures with Hipstamatic and Instagram…people around me where just amazed at what you could do armed only with an iPhone and some Apps…
. 
During another wedding I attended (a very special one because it was a couple that met thanks to some get together I once organized… lol), I took some pictures of the bride getting in the limo to meet the groom and 2 minutes later, they where online, available for those who could not make it to the celebrations to see.  As a matter of fact, a lot of people that were not present at the ceremony got to see the bride way before those that were attending!  Good thing the groom was not online at the moment… J
 .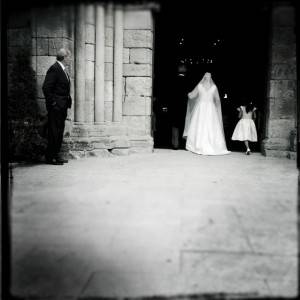 I wrote this post a few months ago but never got around to posting it until Photojojo and the Instagram team talked about weddings recently.  So here it goes!
.
My best tips for those who want to organize the perfect #InstaWedding!
The first thing you need to do is inform your Igers friends who will come to the wedding about the tag you will use.  Encourage those who have not yet discovered the pleasures of Instagram to open an account and follow your wedding, what better way to help others discover this amazing hobby?
 .
I recommend that you use a very personal (and funny) tag so that it has less chances of being ''contaminated'' by other users using the same tag.  For example, you could use something such as #WeddingBobMaryBoston12  that will reduce the possibility of having your pictures mix with other wedding pictures.  You could also choose something original and related to the bride #ByeByeWendy or something that people will remember easily.
. 
Communicate the tag in your own social networks profiles (do this with a few weeks in advance).
 .
Something like this should do the trick: ''Hey!  Remember that the tag for my wedding will be #wedding…''  Share this tag in as many social sites as possible!  Instagram, Facebook, Twitter…
.
You could also include the information in the invitations you send your guests and make it available on each table during the party.  A real 2.0 wedding can be an amazingly fun thing to do.
.
A few days before the event you could entice your friends by uploading a ''Making off'' type of pictures.
.
At the hairdressers, last minute decisions on flowers, menus, catering, setting you guest table plan or whatever you find fun and funny.  I'm convinced your friends will thoroughly enjoy having that special ''back stage'' look of the event and that will get them going with the habit of tagging their own pictures with the right tag during your wedding.  You could also engage your friends by uploading pictures of their own wedding preparation, now that's fun!
.
During D day, try to post one or two pictures in the morning to start the excitement… and then you could ask your friends to take pictures of your arrival to the church, at the party etc.,
.
You could also keep your account burning hot with novelties by uploading pictures during dinner (but don't focus too much on it because this is an important day for you and you don't want to spend It all on Instagram!), or let you friends do it for you.
Your Igers friends will probably upload tons of photos when you less expect them to, like when you are dancing cheek to cheek or slicing the cake or kissing after your guests make a general request…
. 
And last but not least… think of uploading a fun picture just before you dive into the matrimonial bed to spend your first ''Nuit de Noces''.
The day after the wedding, remember to thank you friends.
You could for instance upload a picture thanking all those who assisted, those who liked and commented all the pictures with your wedding tag.  You could also share a dedicated album like the ones '' Ink361'' have to offer, or how about a photo gallery through ''Statigram'' or ''Webstagram'' account in your own Facebook Page?

How to share you pictures with all your friends after the wedding (including with non Instagramer friends)?
Think about using a ''cool'' web viewer such as ''Statigram'' or ''Inkstagram''.  These allow you to make a slide show with the tagged pictures.  We have used these tools quite often for Instagramer events like Instameets because they allow you to easily organize and share an awesome slideshow of all the pictures available with everyone, even those not registered to Instagram.
How to print the pictures?
There are a dozen of ways to print your Instagram pictures and all kinds of imaginable solutions that facilitate the operation (check "how to print your Instagram Pics in our Links Section).  From iPhone case boxes with ''Casetagram'' to magnets for your fridge, and photo albums with 'Keepsy' or 'Blurb''…  The only problem you may find is that you will only be able to print your own pictures because Instagram open API's only allow you to print pictures that are owned by a user.
INk361 is a cool way to share Albums and Facebook is another easy solution, you could just upload your pictures on an album or send them to your friends with ''Postagram'' . You will find many more solutions when you visit our Instagramers Links section.
Hope it helps and happy #InstaWedding!
@philgonzalez
Photos by me: Weddings of @AnitadelaRosa and Felipe in Galicia, Spain and Tharn and José in Thailand.
Help in Translation: Daniel Arenas @Arenastello
.
You can read related articles here too!
The Wedding Guide by PhotoJojo
.
.