How to plan a wedding on Instagram?
.
Practical guide to a 2.0 wedding using Instagram
.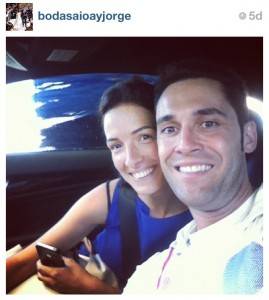 A little over a year ago I published an article on how to organize a wedding using Instagram. (See "How to organize a wedding on Instagram?") It is fascinating and "Freeky" what can actually be done with our favorite app …
A few weeks ago Jorge Conde (@jorjala ) on Instagram, someone who works in the same sector as I do, told me that my article had inspired him so much that he decided to get to work and organize his own 2.0 wedding, a wedding like no other before … With a good dose of Instagram…of course.
.
What follows is his 2.0 wedding guide, the anecdotes and brilliant results in figures and of course, in pictures!
.
Jorge admitted to me that the organization of such an important event, that used to be a mainly feminine affair, became something of a mission for him.  What follows are the preparatory steps he took prior to the wedding.
.
A website dedicated to the event.
.
The first step in the organization of his "Big Freaky Wedding" was not only to develop a dynamic website as a point reference for all guests, but also to get a maximum number of visits.  In just four months it received more than 11,000 views.
Check out the web page at: www.saioayjorge.com
.
Instagram Hook.
.
Jorge decided to use the website to promote the subject that interested him most: Instagram.
The first step was the creation of a username: @ bodasaioayjorge, the official account which would provide the photos of all the weddings locations, some menu items, exclusive photos of the day of the groom's vows, etc … The idea was to get people excited with photos that where exclusively available on Instagram and make sure the guests where in the know at all times. The idea you gave me to upload videos is pretty interesting.

A wedding is worthy of its own hashtag and so #bodasaioayjorge was created to categorize all the photos related to the wedding once the wedding was over, it allowed access to all the photos with a rapid glance and in a single "stream".
As a matter of fact within the website they published a post titled: "Instagram" (www.saioayjorge.com/boda/?page_id=1066) which also included an automatic feed where all the photos with the #bosdasaioayjorge tag where published.
.
! Become a fan!
.
Prior to the event, Jorge contacted his friends and told them about the Instagram element in his wedding, he encouraged those who had not created a profile yet to do so and asked them to upload their wedding preparation photos.
.
The day before the wedding.
.
Jorge and Saioa wanted everyone to get to know each other before the big day; they achieved this by organizing a cocktail party the night before the wedding. They thought about famous couples and gave stickers to each person so they could find their respective partners, take a picture and upload it to Instagram with tag #bodasaioayjorge.
.
 The day of the wedding!
.
Another "Freaky" and successful initiative was the sending of programmed SMS's to all the guests as certain milestones took place during the wedding (this had them respecting their tight schedule… they could not afford to miss their bus, or forget their table number, etc.). It also reminded everyone to start uploading photos of everything they did from the moment they left their hotels.
They placed small posters on each dinner table with basic information about how to participate in the whole Instagram craze and how to download the app… for those who still had not heard about what was going on…
During the dance, they projected all photos with #bodasaioayjorge on a big screen via the platform eventstagr.am,
They also placed a printer next to the "photocall" and the book of signatures so that guests could print a photo in a few seconds and then stick it on the book along with their best wishes. This was done with a tool called www.giclie.com which basically does the same as prinstagram.
.
The ROI or Return On Investment
.
No marketing or promotional effort success would be fully appreciated if you can't measure its success in numbers and emotions, and Jorge fully understands that.
"The whole wedding was awesome," the couple tells us. "People truly enjoyed themselves, and contrary to what everyone told us, we had a great time and it never brought us any additional stress.
.
Concerning the "Geek/freaky" element of the wedding, they were happy to see that guest participation exceeded their best expectations by far!
.
Starting on Friday, all the insistence of the past months paid off and people started to upload photos from the moment they began to leave home in Madrid and other cities towards Vitoria.
During the "prewedding" party on Friday night, we organized the game of "find the couple" and even those who had never even heard of Instagram started to download the app and use it.  People started helping each other out, and it turned out to be an ideal game for mixing all the different groups. The party featured fun snapshots that will be shared and remembered forever.
"On Saturday, the day of the wedding, from the moment people woke up, they started to get photos of the girls getting ready at the salon, the bride began to send details of their accessories … "As the goom, I published photos of the wedding site as it was getting the last touches, I sent photos from the hairdresser too … Really cool! " said Jorge.
.
As they left the church in a rain of confetti and rose petals, many photos where uploaded…
.
"When we got to the hotel, people where taking cocktail pictures, etc., but when we got to the banquet and people realized that by uploading photos to Instagram with our hashtag they could print the pictures and stick them to the Signature Album, things really took off … We had many accessories and costumes available for people to take their pictures at the photocall, it turned out to be a hit.  As a result, I have the coolest signature album I've seen in my life, with the most incredible photos! "
During the banquet, the photos were projected through eventstagr.am, people were delighted to see themselves and they became even more active when they realized that photos were projected automatically as they were posted. In total 391 photos where uploaded with the #bodasaioayjorge tag.  A total of 70 different guests participated and uploaded photos (out of a total of 130 guests).
.
And to top off "the freakiness" of the whole thing, George had the idea to use the IFTTT APP (If This Then That) to make sure every time someone posted a photo on Instagram with the appropriate hashtag, it would automatically be saved on a Dropbox file so that at the end the event, everyone could have access and enjoy all those pictures.
.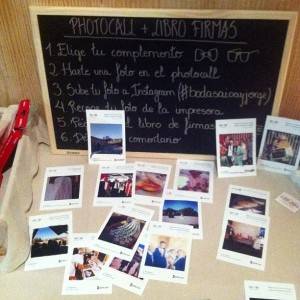 "Our 2.0 wedding was a great success, I'm happy to have had the invaluable help, inspiration and wise advice of Instagramers.com.
.
People that were far away and could not attend the wedding where able to follow the event as it unfolded,  to me that was one of the important benefits of all this. "
Take a look at the photos and videos that were up uploaded to the feed with #bodasaioayjorge some are simply incredible, one very good one is of a girl who could not print her pictures because her user was private… so she hung a sign on herself saying: "Instagram is not working", she did manage to solve the problem afterwards.
.
I am glad we could help Saoia and Jorge in making this special day even more special. .. The first real big 2.0 wedding.
.
PD: Guys … Organizing a wedding is no longer the Bride's monopoly.
.
@ Philgonzalez
(translated to english by @Arenastello )
Related post at Instagram blog:
In mid-August, Instagrammers @kimathomas and @colerise photographed a wedding at San Francisco City Hall with just iPhones and Instagram. The couple — @jonathanbuckley and @blynnsfbay's — met and fell in love in SF, and they wanted a wedding day full of the things that make The City so wonderful, including a number of local start up influences. See post here below.
https://blog.instagram.com/post/30741902076/an-instagram-wedding-in-mid-august
.
.