How to use emoticons in Instagram?
.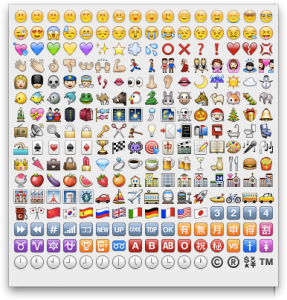 One of the most recurrent questions received on Instagramers.com is about how to use emoticons on Instagram comments and profiles.
This is done through the emoticon App.  It's a real easy tool to install on your device and once installed you will probably be using it nonstop.
Emoticons are a kind of like a new language for iPhone users so take the time to examine one of the several different offers you will find on the Apple AppStore and download the one that suits you best.  Most users download the "Emoji Free" which is a very complete free App, but there are many more emoticon Apps out there for all tastes.
– The first thing you need to do is to download your Emoticons App, chose between: Emoji, Emoji Free ,Emoji for Iphone 4s HD etc…
– Install the App following the procedure.  You will notice that the App is installed as if it was another language in your device.
– If you experience any problems, you may have to reinitialize your IPhone. See other helpful tutorial here
– You can use emoticons in your comments and in your profile info (settings)
– Using the Icons can be really useful when chatting with a users  from countries whose languages we don't speak. 
A few days ago Mashable published a funny post about the use of emoticons and movie titles, check it out and let your creativity flow.
Have fun!
.
@philgonzalez
.
Adding October 2012, 11th :  Add Emoji Icons to Your Default iOS Keyboard