Instagramers are Invited to Become Paid Casetagram Artists
Budding artists across the globe will be designing phone cases for the Casetagram Challenge.
.
Startin on November 27, 2012, www.casetagram.com  ( @casetagram) is launching a competition that will place winning entries for sale alongside designer phone cases created by popular artists for Casetagram's Artist Collections. 
Closing on the December 31, 2012, this is a hugeopportunity for those who love being creative and sharing original images to enjoy a platform that pays the winners at a premium rate.
During the Casetagram Challenge, applicants will have to sign in at www.casetagram.com with their Instagram accounts.
The phone case designs are created by simply using the artist's authentic images paired with their chosen template provided by Casetagram.
.
The winning entries with the highest number of votes on the official website and social networks will be showcased in the Artist Collections available for purchase online and at selected retailers. 
.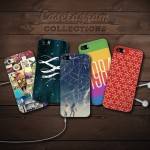 "This is what Casetagram is about. We want people to be recognized for their talents by sharing what inspires them. Imagine seeing your design as part of our Artist Collections and earning top dollars for each sale.  It's a dream come true,"  says co-founder Wesley Ng.
"We are supported by many artists, each with a fanbase of over 300k within the Instagram community.  People who value the look and quality of our custom phone cases include photographers, creatives and celebrities from all around the world.  By introducing the Casetagram Challenge we now offer an innovative way for evolving artists to monetise their social posts."
.
Casetagram is celebrating creativity with the Artist Collections by producing sought-after designer phone cases and making them easily attainable on the global market.  The testamonials at www.casetagram.com heralds positive feedback from users who have purchased custom made cases embellished with their own personal photos.  Collaboration with popular artists, winners of the Casetagram Challenge will be rewarded with a spotlight next to the genius works by Ana Barros and Cole Rise.
.
For more information on how you can be a winner by designing for Casetagram, go to www.casetagram.com.
.
@igers