New Instagram app release 2.0.2
.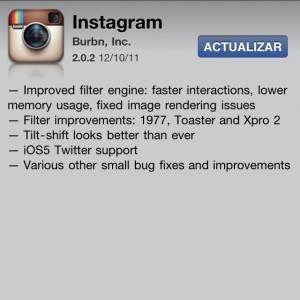 Instagram team released this night a new version fixing some bugs and some issues of 2.0.1 version.
Among them the "black upload" we were suffering these last days in some devices and improvements in some of our fav filters.
Thanks Instagram!
— Improved filter engine: faster interactions, lower memory usage, fixed image rendering issues
— Filter improvements: 1977, Toaster and Xpro 2
— Tilt-shift looks better than ever
— iOS5 Twitter support
— Various other small bug fixes and improvements
Plus an amazing integration with Twitter and iOS5.  The biggest change is that you can now share another user's photo to any of your Twitter accounts!
.
@philgonzalez
Upload it now here. Instagram 2.0.2  version released 12.10.2011
More info about Instagram at Instagram Blog