PastBook helps you rediscover your Instagram photos on-line and off-line

.
PastBook, the book of your social memories is now available for Instagram!
.
Amsterdam-based company PastBook converts the ever increasing need of preserving your online memories into a book, better said; the PastBook. With the idea of letting you rediscover your past activities on various social networking platforms (Facebook, Twitter, Flickr etc.), PastBook started with integrating the popular Instagram photo app.
.
Free download & easy creating
.
The feature allows you to collect your Instagram photos in an online book by connecting the Instagram application at instagram.pastbook.com.
Download it as a PDF file or get a professionally printed book up to 100 pages and with hardcover. PDF download is free at the moment and the printed version is available at a promotional price of 39,00€, worldwide shipping included.
Creating a PastBook is quick and easy and the best of all is that PastBook includes all interactions like comments on photos posted on Instagram.
The layout of the Instagram PastBook can be generated automatically based on creation time, or, in the future, also customized page-by-page. The result is a beautifully designed book of Instagram memories that will be printed on premium-quality paper.
Past Book as a present
.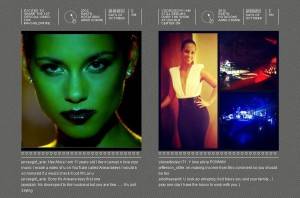 You can also create a PastBook for your friends: good idea for an unique present, especially now with Christmas coming up!
Do you not have an Instagram account yet? Then you are still able to enjoy the service by creating books with virtually unlimited tags (like #London2012, #Amsterdam #igersMadrid, etc..) or looking for other Instagram users, maybe VIP ones like Rihanna or Alicia Keys.
Rihanna's PastBook | Alicia Keys' PastBook
.
More information
How to create a PastBook | How to create a PastBook for your friends | Twitter | Blog
I have just ordered my own PastBook and I can not wait to receive it!! I'll let you know as soon as it falls onto the doormat…
@kimberlysunster