Why is the kik App so important for Instagram users?
.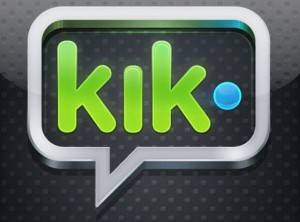 You may have noticed the following information on many Igers Profile: My kik is @nickoftheuser.
You probably wondered if this was some kind of mysterious or religious sect, until a close friend asked you  what is your kik and you stared at him with incredulity…
kik is an iPhone App. A kind of What's App really. A new "Instant messenger" that can be really interesting for Igers. Let's see why.
Instagram connects people… Through public messages.
As we all know, the App is really addictive and we can spend hours chatting with other users through comments until the day you want to have a private conversation with an IG friend to chat about the benefits of  the Instagram App, or simply share tips and why not… share deeper feelings.
.
ADDENDA JULY 2014: WHY PEOPLE USE KIK ON INSTAGRAM? What does KIK mean on Instagram?
.
You may have noticed that thousands of people use tag #KIK on their comments or profile information. That means this user is available on Kik and is open to chat with other members of the community. Usually, the user uses the same "nick name" or "handle" on Kik and Instagram.
How can I connect privately with an Instagram user?
Until now you had very few options, and when you did it was mainly through Apps or PC.
The first App or better say "Web tool" InstagramApi based InstaDM made its appearance some months ago and it's  called InstaDM .   InstaDm allows you to connect with other users just by logging in with your Instagram user. We learnt this morning that they just launched an I.OS version that will allow you sending direct messages to other uusing downloading the InstaDM app from ITunes. 
You can also send a message through Statigram  which has a private message web tool.
.
Other web tools have started to offer the same service but all of them require both users to either have the same App or be registered on the same Web.
The easiest solution was to look for your friend on Facebook or Twitter and connect with him through a DM or by  simply giving him or her your email through the comments feed.
And then the kik App appeared!
kik App is really interesting, mainly because you can promote your kik info without giving your name, private info or phone number. For the moment, it remains the best way to keep your personal information private.
On Instagram, most of us use nicks to talk with each other. With kik, the base of the relation is the nick.
The kik App is easy to set up and in less than five minutes, you will have your own nick in kik. That's why I highly recommend users to create a similar nick to the one on IG.
The chat and "sharing" pics and docs tool s really interesting and kik is on its way to position itself as a serious competitor to ios5 messenger and What's App as both of them requires using a personal phone number Info. Kik doesn't.
Download the kik App here now for free!
@philgonzalez