1197 A conference dedicated to Mobile and Iphoneography.
..
The first camera phone photo was taken on June 11th, 1997.
In honor of that date, two famous Instagram-addicted photographers, Nate Bolt & Jessica Zollman (recently hired by Instagram team)  teamed up with Blurb to put together 1197, a one day conference fully dedicated to Mobile Photography and Iphoneography.
.
This one-day conference will be presented by Bolt | Peters and Blurb next Saturday, October 22nd
.
Mobile phone photography is changing the way we use social networks, the art of photography and mobile devices themselves. The use of Mobiles as Cameras, Edition Apps and the Internet are just the beginning of a new trend that mixes these three elements and promises to have a very successful future together.
Famous artists like Richard Koci Hernández aka as  IG user @Koci (see our recent interview here) and Dan Cristea a.k.a  (@konstruktivist) will present a unique iPhoneography workshop focusing on creating unique photographic shooting and post editing techniques, using only iPhones and iPads.
Participants will learn to use the best apps by being introduced to tips and tricks on lighting and composition. They put these workshops on as lofimode.com, will also be leading photo walks throughout the event.
Other important speakers will be Nate Bolt, Philippe Kahn, Jessica Zollmann, Dan Marcolina, Dan Rubin, Lauren Lemon and Teru Takayama.
The event will take place at the Mission Bay Conference Center.
.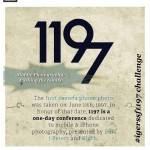 Laura Powell, aka @lpow88, our Instagramers San Francisco Local Manager will attend the event as she was kindly invited by the 1197 organization.  You will be able to get in touch with her as well.
We recently organized a contest on Instagram around the 1197 event through our @IgersSF account and @xxxyxyz and  @brandondoran are the final winners of the passes to attend the conference!
But there is more good news for the rest of us: the folks at 1197 are giving IGers 25% off the registration fee, the discount code is:  INSTAGRAMROCKS !
.
Added 26 October 2011: Here a report of what did happen at 1197 Conference this year!
..
@philgonzalez