12th annual Tour For Life by Animal League
.
North Shore Animal League is the largest no-kill shelter in the world and is launching its 12th annual Tour For Life starting March 22nd.
.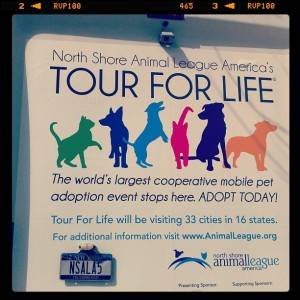 Tour For Life 2012 is a cross country journey that covers over 15,000 miles and partners with over 100 local shelters to help promote adoption.
The six drivers of the mobile adoption units will be using Instagram to document their journey to help save pets lives.
They will be taking photos of all the puppies, kittens, cats and dogs that have been rescued by the Animal League and its local partners.
They are located in Port Washington, NY and have saved over 1 millions lives to date.
All the Instagram photos can be seen at www.facebook.com/theanimalleague/ in their Tour For Life Photoblog app or @AnimalLeague on Instagram.
..


How can Instagram users get involved?

Take a picture of your adopted cat or dog and share it using the hashtag #rescuedog or #rescuecat to help spread the word about adoption or help out by supporting the mission (see web here).

You can also visit us Tour For Life to show your support and help save a life.

.
The 2012 Tour For Life partners:

.
Thur, March 22 Humane Society of Greater Savannah Savannah, GA

Sat, March 24 Palm Beach AC & C West Palm Beach, FL

Sun, March 25 Miami-Dade Animal Services Miami, FL

Wed, March 28 Humane Society of Pensacola Pensacola, FL

Fri, March 30 & Sat, March 31 Jefferson SPCA Jefferson, LA

Sun, April 1 East Baton Rouge AC & RC Baton Rouge, LA

Wed, April 4 HS of Northwest Louisiana Shreveport, LA

Sat, April 7 Citizens for Animal Protection Houston, TX

Tues, April 10 San Antonio AC & C San Antonio, TX

Thur, April 12 Tuscaloosa Metro Animal Shelter Tuscaloosa, AL

Thur, April 12 PAWS in the City Dallas, TX

Fri, April 13 Florence Animal Shelter Florence, AL

Sat, April 14 Metro Animal Control Nashville, TN

Sat, April 14 & Sun, April 15 Rescue the Animals Abilene, TX

Sat, April 14 & Sun, April 15 National Mill Dog Rescue Peyton, CO

Sun, April 15 Huntsville Animal Services Huntsville, AL

Tues, April 17 Van Buren County Animal Shelter Clinton, AR

Tues, April 17 North Little Rock Animal Shelter North Little Rock, AR

Thur, April 19 Precious Friends Puppy Rescue Clarksville, TN

Thur, April 19 Humane Society of the Ozarks Fayetteville, AR

Fri, April 20 Humane Society of SW Missouri Springfield, MO

Sat, April 21 Waynesville Animal Shelter Waynesville, MO

Sat, April 21 City of LA Dept. of Animal Services Van Nuys, CA

Sat. April 21 C.A.R.E. (CT Area Rescue Effort) Southbury, CT

Sun, April 22 City of San Bernardino Animal Shelter San Bernardino, CA

Sun, April 22 Animal Protective Assoc. of Missouri St. Louis, MO

Wed, April 25 Second Chance Center for Animals Flagstaff, AZ

Thurs. April 26 North Shore Animal League America New York, NY

Fri, April 27 Indianapolis Animal Care & Control Indianapolis, IN

Fri, April 27 & Sat, April 28 Watermelon Mountain Ranch Rio Rancho, NM

Sat, April 28 Humane Soc. of Madison County London, OH

Sun, April 29 Northeast Ohio SPCA Parma, OH

Sun, April 29 Amarillo Panhandle Humane Society Amarillo, TX

For the full details click here https://www.animalleague.org/tourforlife/