22 Instagramers are official InstaReporters at Venice Art Bienale
.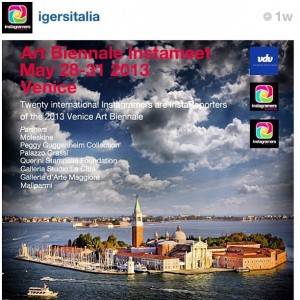 Twenty-two international Instagramers are official InstaReporters of the 55th International Art Exhibition of the 2013 Venice Art Biennale(@la_biennale).
You can follow the daily online magazine and our 22 Instagramers team via @veneziadavivere which will cover the Contemporary Art Week in Venice in real time.
.
To get a "behind-the-scenes" pics, follow our Instareporters:
Ilaria Barbotti @Igersitalia
Christina Noerdam Andersen @cirkeline – Copenhagen
Ana Sampaio Barros @anasbarros – Wien
Oliver Vegas @ovunno – Barcelona
Thomas Kakareko @thomas_k – Berlin
Gui da Rosa @gui_ – Wien
Sofya Zaika @sofyapavlovna – Sankt-Peterburg
Silmara Machado @syllmara7 – Brazil
Bianca Reyes @blreyes16 – Washington D.C.
Stella Katterman @stellakatterman – London
Adrian Richardson @ady_rian – London
Gianpiero Riva @giariv Pordenone
Andrea Kate Ferrario @andykate -Milano
Emma Barreca @hypoison – Udine
Enrico Costantini @enricocostantini – Venezia
Hervé BOIS @timbrado – France
Mark Boscaini @emmebi420 – Garda
Orazio Spoto @oraziospoto – Milano
Gianluca Candela @mr_giallo – Ancona
Lorenzo Cinotti @celestalis – Venezia
Giuseppe Boscaro @jasonbolkano – Venezia
Laura Scarpa @veneziadavivere – Venezia
.
For more info visit www.veneziadavivere.com and www.instagramersitalia.it
The project was created by the Venetian magazine @veneziadavivere and the Italian community @igersitalia in partnership with @igersvenezia, also with the coordination of @ilarysgrill, Laura Scarpa, @jasonbolkano, @celestalis.