8 Instagramers and the really first InstaMeet on a volcano: This is Etna
.
8 Instagramers, 1 guide and a volcano. @IgersCatania organized the first InstaMeet of the Instagramers community at high altitude on an active volcano: Etna, Sicily. #ThisIsEtna
.
Etna is the tallest active volcano in Europe and one of the most active in the world.
.
Since I started the community of @IgersCatania I always thought that "sooner or later" we would organize an InstaMeet on this volcano.
Finally, on Sunday 28th of October, it happened: 8 Instagramers, 1 guide and a volcano.
In the team there was @carlotta72, @gaetanoloria, @belzebob, @supersten, @duval, @Fatmesa, @igerscatania and @igerssicilia and me @roccorossitto also in the guise of @igerscatania and @igerssicilia.
Our guide is Johnny Scuderi from the Association This Is Etna (see website). Without their support, this InstaMeet wouldn't have been possible. Therefore, I wish to thank them publically for the commitment and passion they put in their work.
.
In Italian, the word volcano is masculine, that is why volcanoes are usually thought of as "males".
However, the citizens of the towns and villages of Mt. Etna consider it as feminine because it is a "montagna" (feminine noun in Italian for mountain). Johnny, our guide, explains it differently: "It is a"woman" because it's "the great mother", because it gives much more life with its energy than what she takes away and destroys with its eruptions. That is the difference between the "male volcanoes" and Etna, which is female". He is right and his words are full of love for his "montagna".
We met at 9.00 am in the city center of Catania and head off for the first part of our trip: off road up to the Valle del Bove.
An enormous valley that "collects" the lava of "some" of the eruptions coming from the eastern side of the volcano.
I say "Some", because in addition to the four summit craters, Etna counts more than 300 side craters. The sight is spectacular and from our particular point of view we realize that this valley will never be filled with lava: it's huge!
We get back in the jeep, we gain altitude, at about 1900mt we stop at Piano Provenzana. We leave the jeep, wrap up with hats and coats and start hiking. These are "the craters of 2002".
.
"In that year, an eruption destroyed a good part of the ski installations and other buildings of the area. The power and randomness of nature manifest themselves in all their strength : about 26 km of old lava flows and parts of the woods that was spared by a few centimeters".
.
We go up for about an hour until we reach the craters: 2400 meters of altitude. A strong wind, our hands are cold, but still holding our smartphones or ipads and taking many photos.
And then suddenly, the 3G signal is detected and works perfectly; there are some boosters in Piano Provenzana. Photos, photos, photos, tagging #thisisetna. At high altitude, we plant the flag of Instagramers, in reality, it is a t-shirt that we raise in the wind and photograph it.
After "the craters of 2002", we take the road again and we continue our journey towards a lava cave. Relax, it has been extinct for a long time. Equipped with safety helmets and flashlights, we go down.
.
Lava makes its way, knows no barriers and when it has to pop up, it creates "lava windows".
.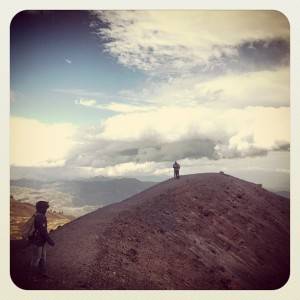 At this point, we are heading to the last phase of our itinerary: Gambino (winery). Terraced vineyards, beautiful landscapes and a food & wine area. We didn't desire anything else. We tasted 4 different red wines produced by them: strong, full-bodied, perfumed. A perfect conclusion for a perfect day.
We, Instagramers, always try to organize unique InstaMeets, in this case it was easy. Etna is a wonder of nature, we, Instagramers, just captured her beauty on Instagram.
.
Story by @roccorossitto manIger of @igerscatania
Photographies by: @igerscatania and belzebob (here below) and @roccorossitto  @fatmesa @duval and on the right side
More info about Igers Catania here
p.s. @igerscatania and This Is Etna (https://www.thisisetna.com) will always be happy to accompany instagramers on Etna.
Contact us if you decide to visit Sicily: igerscatania@gmail.com
.