And the Instagramers Awards goes to……
.
Last weekend in Viterbo, Italy, at Medioera, a festival which takes place every year and focuses on Digital and Cultural topics, Instagramers Italia organized the Instagramers Awards aka #iga14
.
In a first fase Italian Instagramers could fill in their favorite Instagramers or Instagram accounts in the following categories: art, blogger, brand, community, fashion blogger, food, photography, entertainment, good cause, news, personality, pet, foreign profile, sport and travel.
.
.
And the winners are…
.
Art: @virgola_
Blogger: @chiarainpentola
Brand: @ikeaitalia
Community: @instamamme
Women's Fashion: @tinatelli
Men's Fashion: @giuliotolli
Food: @giallozafferano
Photography: @brahmino
Entertainment: @igersgallery
Good cause: @1caffe
News: @bigodino_it
Woman's Personality: @maghettastreghetta
Man's Personality: @lucaargentero Pet: @linomaialino
Foreign profile: @barcelonabeat
Sport: @nike
Travel: @instatouritalia
.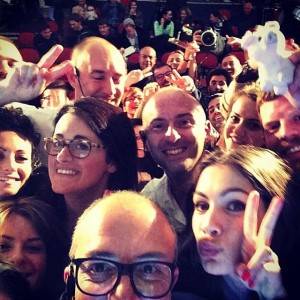 .
.
It was  big success and we're looking forward to next year's edition.
.
Why not organize an international Instagramers Awards?!
.
.