Big fun at WWIM8 TwinBridgesMeet in Lisbon
Last weekend, on January 11th, instagramers from all over Europe met to celebrate Instagram's eighth Worldwide InstaMeet!
.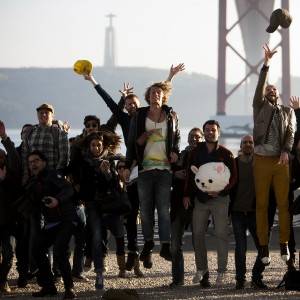 Manuel Pita aka @sejkko, an extreme creative instagramer from Lisbon, invited many great mobile photographers to Lisbon, to celebrate together #WWIM8 with as theme #TwinBridgesMeet uniting the twin bridges between Lisbon and San Francisco.
.
It was an amazing day with old and new friends, with laughter, artistic moments, good conversations, sun, jumps and lots of photos!
Here you can find all the official #WWIM8 and all the #TwinBridgesMeet Instagrams.
.
.
As a picture says more than a thousand words… Here's a resume of the must funniest moments at TwinBridgesMeet in Lisbon, with some exclusive pictures that can not be found on Instagram.  😀
.
This slideshow requires JavaScript.
).
Special thanks to @gmateus and @joselourenco (Portugal)
Thank you too @hannahrw (London), community manager of @instagram Europe and thank you all for coming!
.
.
Thank you all igersfriends! See you soon at #WWIM9
@kimstamatic @isabelitavirtual (Spain)
@luciafernandezmuniz @nicanorgarcia (Spain)
@rutelopes @ritacordeiro (Portugal)
@nunolopeslourenco @jmiguel (Portugal)
@voodoolx @ana_gil_ @kitato (Portugal)
@brahmino (Italy)
@katia_mi (Rusia)
@chaiwalla (England)
@raphaelliais (Morocco)
@oliviermorisse @catherinesomething (France)
@amalita_ (Venezuela)
@macroe  (Mexico)
@analeko (Croatia)
@etna_11 (Sweden)
@asliyilmazturk @begumkocum (Turkey)
@dansmoe @eljackson (Finland)
and @philgonzalez from @igers !!
.
Let's instagram the world!