Now that Facebook bought Instagram, the question that rises is how do the users feel about it?
.
Instagram and Twitter are raging with activity ever since the news came out that Facebook had made the acquisition of Instagram for a billion dollars.
Today all important media and blogs are reflecting and publishing pages and pages about the deal, whether it is financial aspects, marketing strategies for both companies and the possible next developments in Palo Alto's mobile and social network sector...
If I was a Hollywood movie producer, I would have named the movie a Billion Dollar Baby…
.
But what does it really mean for users and Instagramers like us?
.
After Mark Zuckerberg's official announcement last night on his Facebook profile,  thousands of comments appeared.  Not only in Twitter but In Instagram too.  For everyday Instagramers like us, the Instagram App has effectively turned into our main communication tool.   A place where we can share more than simply pics, but our feelings, ideology and our opinions too.
Yesterday, our @Igers pic mentioning the  "Facebook deal" made it to the Popular Page, no surprises there…
As founder of Instagramers, the main fan network  of the Instagram App around the world, needless to say that my phone was hot with activity last night. Mentions, questions, doubts…  I am probably one of the first Iger receiving complaints every single day, as it should be!
.
Many people are asking  me today what will happen next so I decided to write this post.
..
The curious thing about this whole story and our Instagram users experience is that we seem to behave differently depending on the social networks we use.
.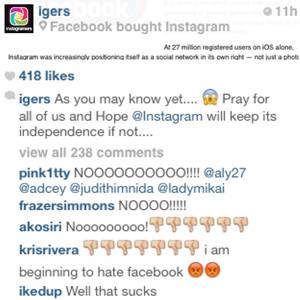 – Most of us are deeply involved with the Instagram App itself and even declare to be addicted.   There is a strong feeling of stickyness with Instagram's growing community.  A real sensation of being part of it through the community.  That's why we also caught on to what amounts to a special fear of Android' s incursion into the Instagram world, we fear that it could destroy our perfect little world
– Most of us have really no idea of who owns our pics rights and which third party could use it (same as in Facebook )
– All of us have Facebook account.
– A huge part of our Instagram Pics are daily and naturally shared to our own Facebook walls and profiles. 
– According to a recent study, up to 12.5% ​​of the photos uploaded to Twitter could be from Instagram.
– Our own Instagramers Network of more than 270 local groups worldwide is organized  around  Facebook Profiles and we have a private group of over 200 "ManIgers" organizing events, instawalks, exhibitions, sharing ideas, giving tips…
.
So why are we so scared of Facebook?
.
As Internet users we won our independence and autonomy in our choices. We do not want to rely on institutions or corporations anymore. Instagram until today was like a small "family" composed by a few young guys who developed an amazing app and changed our lives… They used to answer personally through the helpdesk center, @Josh worked up on Sunday to publish "The week on Instagram" on their blog and there was a real synergy between users and owners of the app and so naturally, we are left wondering what will happen now.
In a pic I posted yesterday in @Igers Profile on Instagram (see here in the right side) I received more than 220 negative comments about the acquisition. There is no doubt that some people are really upset may think their rights will not be respected and that it will probably smell business and advertising everywhere.
.
But we have to be  conscious that our favourite app can only subsist if there is a viable business model behind.
.
I would conclude that Facebook  already has a billion users and that they are definitely not seeking for  30 million Instagram users to boost their member ranks.  Not at all.  Most of us are already Facebookers and Mark  already has all our personal information.  Moreover, Zuckerberg has not demonstrated any interested in merging both Brands and Services (at least for the moment).  He knows we don't behave the same way in each social media platform we belong to and that  we act differently depending on our motivations. Merging the two platforms under the Facebook umbrella would provoke a massive migration to other photo-sharing apps like Eye' em or Picplz.
I really do think this deal is more a question of strategy and keeping Google and other competitors at bay  (Google had recently shown interest for IG). I  personally thought that Instagramwould fit better with Twitter. It made more sense to me but  it's seems that Jack Dorsey is really happy with his Instagram Shares value today as he was one of the first round capital fund investor.
I believe that (for least a few months, maybe a year…) there will be no important changes in our Instagram App and that in any case, it is useless to try to plan further than that.
More the one million Androiders registered last week and nothing really happened. So why should we be scared of Facebook this time?
.
Go on having fun with the App and Let's Instagram the world!
@philgonzalez
.
Articles around Instagram Bought by Facebook.
Facebook to Acquire Instagram by Facebook NewsRoom on April, 9th
Facebook Buys Instagram for 1 Billion Dolars by Mashable Social on April 9th
Instagram-Deal ist bisher größter Zukauf von Facebook by MorgenPost (German) on April, 9th
Insta-Rich: $1 Billion for Instagram by WallStreet Journal on April, 9th
Right Before Acquisition, Instagram Closed $50M At A $500M Valuation From Sequoia, Thrive, Greylock And Benchmark by TechCrunch on April, 9th
Facebook adquiere Instagram por 1.000 millones de dolares by Abc.es (spanish) on April, 9th
Breaking News: Facebook purchased photo network Instagram for $1 billion dollars by LifeInLoFi April, 9th
POLL: Will you stop using Instagram now that Facebook owns it? by TheNextWeb on April, 9th
Facebook compra Instagram via XatacaFotos on April, 9th
Facebook to Buy Photo-Sharing Service Instagram for $1 Billion by NYT BIts on April, 09th
Here is why Facebook bought Instagram by GigaOm on April 9th
Facebook rachète l'application de photo Instagram pour un milliard de dollars by LeMonde (French) on April, 9th
Instagram for Android Hits 5 Million Downloads in 6 Days by Mashable on April, 10th
Instagram CEO Kevin Systrom: The $400 Million Man? by Mashable on April, 10th
Facebook compra Instagram. Ecco perché by Wired Italia April, 10th (Italian)
Instagram's passionate users wary of Facebook takeover by CNN International on April, 12th
Twitter Wanted to Buy Instagram [REPORT] by Mashable April, 17th.
Twitter CEO rules out buying an Instagram-rival: We have our own strategy by The Next Web April, 17th
Instagram Wanted $2 Billion From Facebook, And Here's Why by Cult Of Mac. April, 17th.