FocusOn 1.53: Luis Cobelo aka @Churrito on Instagram
.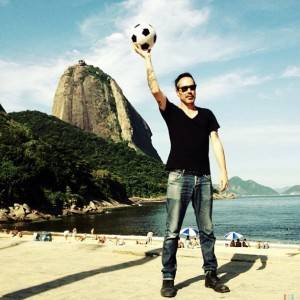 Instagram is a great creative field for talented people.
Instagramers.com helps you to discover, sometimes unkown, surprising users. People addicted to Instagram, telling about their lives, revealing their passions and sharing Instagram tips.
I met Luis Cobelo in Rio de Janeiro few weeks ago.  Tati @Tatigrant_gf told me about one her friends who would come and visit for carnival. Few hours after, this guy with a funny user name ( @churrito ), highly interesting background and great personality was with us. I spent few days with him, discovering Rio´s Carnival atmosphere and sharing two of his "instagram related" projects. #Eusoufutebol and @latphotomagazine .
Let´s discover @Churrito today!
.
His name is Luis Cobelo…
.
He born in 1970 in a small and warm city called Acarigua, in the deep plains landscapes in Venezuela. He studied philosophy at the University of Zulia, in Maracaibo, another warm venezuelan city. He thinks heat is always surrounding him although he can´t bear it.
Since 1993 he participated in several photography and art exhibits and festivals around the world, like Generation 2000, Photo España, Fotonoviembre, Getxophoto 2011 in Spain or Biennal of Latin America Photography in México.
Since 2001 he works as free lance and dedicates almost all his time planning travels around the world and documenting stories who catch his attention. His work was published in international journals from Spain, Venezuela, Perú, Argentina and Mexico like El País semanal, Rolling Stone, Maxim, 7K, National Geographic, Esquire, GQ, Vogue, Marie Claire or Glamour.
In 2011 he was nominated for the UNICEF Picture of the Year and in 2012 he won one of the prestigious Hasselblad Latin American Photographer awards.
.
He is Chief editor of LAT Photo Magazine, a Latin American Documentary Photography Magazine on the web that will be launched end of march. You can chek more information here www.latphotomagazine.com
.
He spends his life between Madrid, Spain and Venezuela that is not always easy "but it´s the Life I chose".
.
Thank you very much Luis, for your contribution to this website!
.
You can find more information about Luis Cobelo on its website,  blog and Flickr or follow him on Instagram , Facebook and Twitter!
.
—
You are:  A sarcastic and ironic guy who is a photographer. My life is the photography, sounds like a "cliché" but is really true. Making photographs I feel happiness or something very close to that. I work as a photographer for more than 20 years. The last 13 years I work as a freelance photographer. That´s mean: I make my own schedule and you have the choice to do whatever you decide to do. Sounds nice but if you don´t have the discipline to do it, better take a long nap.
You would like to be: Myself.
3 items to take to a desert island: A lot of drink water, matches and mosquito repellent.
What has been your most bizarre life experience: Every time I see some kind of violence against a person I feel very strange. Unfortunely everyday in television and newspapers Violence wins battle against peace.
A super power you would like to have: A lightning in my finger that would remove stupidity of some people around the world.
If you ruled the world: Smiles would be mandatory at least 300 times a day.
.
In 'real' life
—
Happy alone (with Instagram), in love, married or it's complicated: Now, I´m happy but you never know…
You love: To take pictures, see the roof, hang my head, read, write, dream awake and wake up the following morning with the my son laying besides me.
You can't stand: People who talk "cheap"
A song that best describes you: "There is a light that never goes out" by The Smiths

Your hobbies: Work is my bets hobby.
A trip you dream of: North Korea.
A quote: "Ask me why, and i´ll spit in your eye""
A wish: Unlimited Credit Card
Some-one you admire: Morrissey and Robert Smith ( The Cure)
What more must we know about you in one phrase: Perseverance
.
Your life on Instagram
—
Your Instagram birthday: October 29th, 2010
iPhone, Android, DSLR: iPhone
How did Instagram change your life: It gave me the opportunity to know amazing and splendid human people behind their smartphones
Instagram for professional or personal use: Both
Define your style in one word: Documentary
Daily time spent on Instagram: 2 or 3 minutes every 4 hours
Favorite hashtag: EuSouFutebol
A filter: EarlyBird
An App: PicFx
A gadget: None
Pictures that make you laugh on Instagram: None.
Pictures that must be forbidden on Instagram: Food!
An improvement for Instagram: No idea, not keen on technologies
Life without Instagram would be: Terrible, really like all the friends I've made on there.
An Instagram user we can't miss: @srgb @jraycaldwell @edgar74 @caei @hufmeister
@caticolux @ionecell @minilunch @tatigrant_gf  @barbaraariston @belilabelle @descalza

Anything else? I make photography stories in any part of the world where there something that catches my attention. I am interested in stories of anonymous people.
A few days ago I returned from a trip to Rio de Janeiro where I started with a new photo project where football and Brazilians are the protagonists. The project is Called #eusoufutebol and are portraits of Brazilians of all social classes and different ages with a soccer ball.
Brazil breathes soccer with truly passion and ball connects all the people through the pictures. This project will go further, step by step, during 2013 and 2014, with diferent chapters and different people.
Describe your favorite pic: My next pics #EusouFutebol
.
Thank you very much Luis it's funny to know the story behind the man with those amazing projects!
.
Follow Luis Cobelo

Instagram | Twitter | Flickr | Blog | See some of Luis Cobelo favorite pictures below
.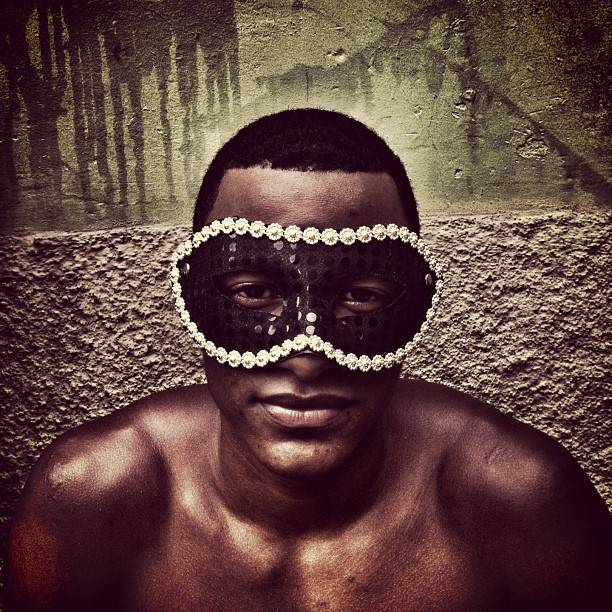 Mermao
.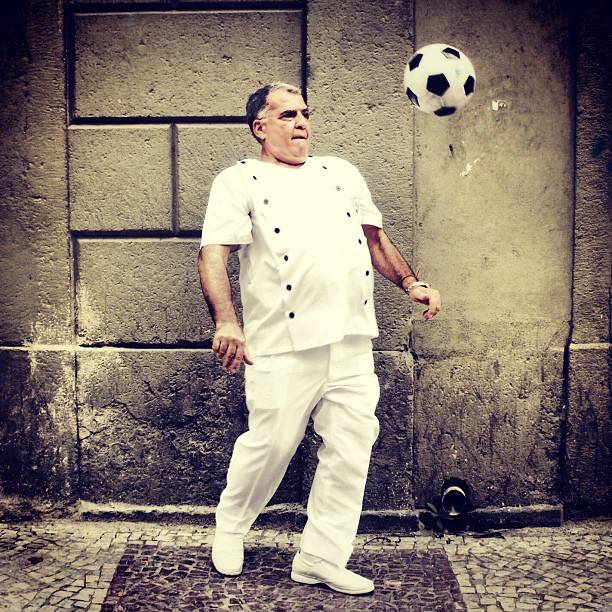 Pelada do Pedro
.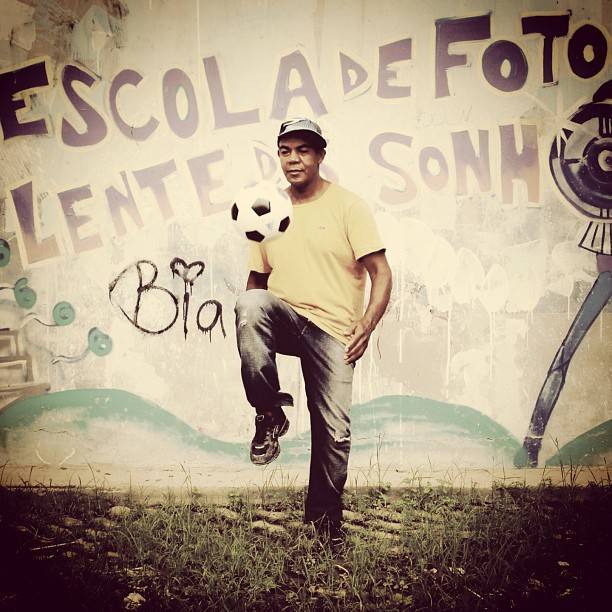 Tony Barros
.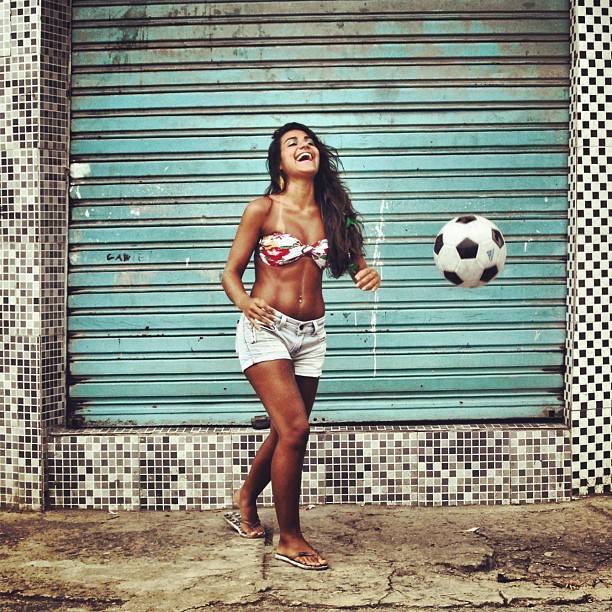 Aliria Carioca