FocusOn 1.62: Anaiah Lei Drummer of  The Bots Band aka @stob_eth on Instagram
Instagram is a great creative field for talented people.
Instagramers.com helps you to discover, sometimes unkown, surprising users. People addicted to Instagram, telling about their lives, revealing their passions and sharing Instagram tips.
.
Today we feature Anaiah Lei Song writer, Drummer and Back-up vocalist of The Bot Bands aka @Stob_eht on Instagram, California.
.
"All my life music and skateboarding have been key elements to me."
.
His name is Anaiah Lei…
.
Anaiah born in Hollywood, California and his family moved out to Glendale when he was around 7. He went to school and lived in the Glendale area, as well as being in surrounding areas such as Echo Park, Eagle Rock, Highland Park and Silverlake.
He started to drum in a band with his older brother called THE BOTS. (He is 19 years of age!).  And he says he has 3 older half siblings from his mom's side! 2 older sisters and one older brother.
All his life music and skateboarding have been key elements to him and we are probably in front of a future great drummer or skater.
Music has always been a part of him and he thinks it always will. He has been drumming for 10 years now (since he was around 6) and surprisingly skating longer than he has been drumming!
But Music and Skate both mean the world to him and are 2 art forms that will always be there for him, he says.
Aside from that, Anaiah loves art in general, one of his favorite art is abstract and splatter art. He is also a fan of the romanticism and realism in art. A precocious young american as you can see.
.
Thank you very much Anaiah, for your contribution to this website!
..
You can follow Anaiah on Instagram and also on their website.
..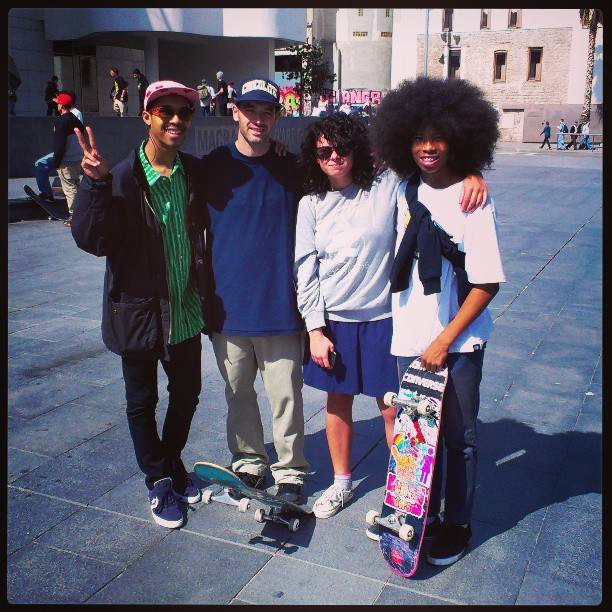 .
Our Last trip to Barcelona during our European Tour.
@sara_sani took us out to some spots around the city and ran in Jesus Fernandez @chocolateskateboards, awesome guy!!
—
You are:  Anaiah Lei, a 16-year-old boy
You would like to be: Able to party with Strawberry Alarm Clock myself.
3 items to take to a desert island: A skateboard with giant cruiser wheels, A mini ramp, a stereo with my favorite music, and drumset. Lol.
What has been your most bizarre life experience: Things I can't remember specifically on tour, but I know there are some freaky things that have happened!
A super power you would like to have: To fly in the air, or to obtain every power there is possible.
If you ruled the world: Everyone would listen to Jimi Hendrix and the sky would be tie dyed.
.
In 'real' life
—
Happy alone (with Instagram), in love, married or it's complicated: In a relationship with my counter part, if you meet and get to know her and myself, you'd see exactly what I mean. She's amazing, so love then.
You love: Travel and see the world! And also skate and play music. I also like things that consist of floral patterns, the cool ones not the weird lame ones.
You can't stand: People that always have to grab my hair, it gets really annoying when you just go for it. I don't know where your hands have been?  Lol.
A song that best describes you: I would like to say "Sunshine, Lollipops And Rainbows" but I'll go with "Third Stone FromThe Sun" by Jimmi Hendrix.

Your hobbies: Music, Skate and Instagram.
A trip you dream of: Hawaii and Taiwan

A quote: "We are the music makers, and we are the dreamers of dreams" Willy Wonka and Arthur O'Shaughnessy
A wish: To be able to have an fruit when I could.
Some-one you admire: Miles Davis

What more must we know about you in one phrase: "I'm weird and really weird, I'm nice though and if you are cool you're cool with me".
.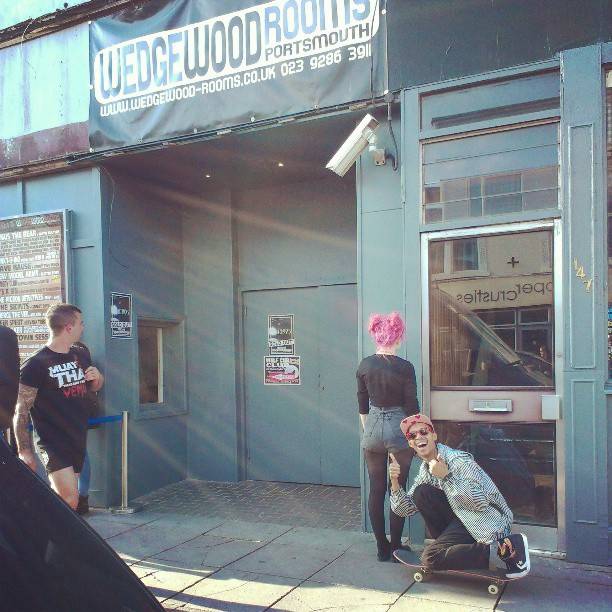 .
Last show tonight with The 1975 in Portsmouth. Here with @anastasiapepsitasou

.
Your life on Instagram
—
Your Instagram birthday: March 20th, 2013
iPhone, Android, DSLR: Android.
Did Instagram change your life: Well it shows people about what I like and where I've been… Hahaha

Instagram for professional or personal use: Both. It links to my band, so in a way both.
Define your style in one word: Weird
Daily time spent on Instagram: If I have the internet or service, just here and there throughout the day.
Favorite hashtag: skatelife

A filter: Valencia
An App: I don't know. lol. I do not usually pay very much attention to the edition apps.

A gadget: An IPod, listening to music outside is awesome!
Pictures that make you laugh on Instagram:  Pics from friends of mine, they are funny!
Pictures that must be forbidden on Instagram: Any of those cool guys and girls that take those cool selfies, the ones that all look the same in their room or bathroom. Go outside and adventure lame-os
An improvement for Instagram: Get rid of people that have over 500 pics with the same pose.
Life without Instagram would be: Alright, not bad at all.
An Instagram user we can't miss: My homie Joy Yoon @yoonion for interesting things.
.
—-

Your life as Rock Band
Your band birth: Some point in 2007
Did this experience change your relation with your brother some way? We've always been the same, just now we could create music together.
Define your musical style in one word: Crazy
Daily time spent playing music: On tour, not as much as you think, at home, here and there!
And Skateboarding? Just about the same time!
Favorite Musician or Band: Bad Brains
And Skater: Everyone on Baker, Deathwish, Girl and Chocolate (I know you said skater)
Life without Music would be: A catastrophe
Another Instagram users we can't miss: If you're into skating, @thrashermag
Anything else?  Thanks so much for the interview!!!
.
.
You can follow The Bots Band on Twitter: @thebotsband
Instagram: @stob_eht
Tumblr: thebotsband.tumblr.com , their Facebook Page and webpage
.
Thank you very much Anaiah, this has been an interesting interview and it was amazing meeting you by chance in Barcelona.
.