FocusOn Instagramers 1.10: @gladsheim
Each week, Instagramers.com discovers new people. People addicted to Instagram revealing their lives, passions, tips in Instagram. This week we fly to Germany and we meet intensity. We discover an artist, a powerful creator. We talk to @gladsheim
.


His real name is Stephan Heil…
He is 43 and lives in Koenigstaedten, near Frankfurt in Germany.
One day, a german Inform-stagramer (who wants to stay in the shadow) told me about a great Stream. The stream of a man called @gladsheim.
So I started to follow him and really appreciate his work.
Stephan aka @gladsheim is an Artist. As you will discover in his profile stream, he is a man full of ressources. He says he handles these ideological path since 20 years now. He is a multi-skilled man and he has already tried every single form of Art. Paintings, Photography, theater, Music, Video and particularly Poetry… All kind of expression. He loves to make music together with his experimental band as lead singer.
.
@gladsheim is a curious person, interested by about all possible spheres of thinking… "As our mind is a kindlike computer with lots of interactive pathways….my main aim is to unravel all of my life / heart and soul and when I discover a new door of my mind, I always follow straight into this new pathway…." He says. "In my mind there is black and white, both portals of our soul, so I try always to keep the lead in this directions as a map of mind. Perfection is to use both of the portals at one time".  It seems that Grey color doesn´t exist for him.
.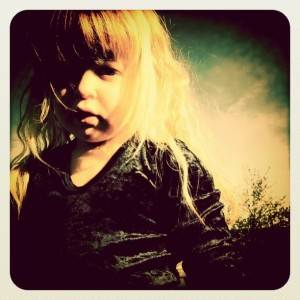 Right at the moment he is about to found a very intense idea he had when he first established his collective group of ARTISTS called  kuenstlerkommando. He always wanted to bring people together to unravel in a very happy and positive way the hidden layers of love life mind etc… via ART.
On Instagram he found such a big vessel of inspiration and gorgeous people that he invented #thefursandbootsclub. The interaction of people clubbing together in a virtual place was very intense. "Imagination is one of the biggest portals, we were playing a kind of role play, all participants created maps of meeting points via pictures and comments and we all felt like being together in one big unique club" says @gladsheim
Thanks to hyper active Instagramer @scienceresearch the idea became more room. He started to do podcasts and virtual merchandising for the fursandbootsclub. (Check Here ) and they had a lot of funny parties and YES on instagram!
.
After that, willing to start to feel this intense exploration of #COMEunity @gladsheim came back to his primal idea to create a group of interactive people in oneSOULandMIND as one PERSON and IXIteam was born or let´s say REborn… (#thegoodshiplollipop  #ixiteam #ixiworld #mysoulsays #ixistories #EQUINOX #thefursandbootclub etc. )… Main participants in IXIteam are "longtime Igers" like @kewiki (creator of website and a real gem of masterpiece) @scarlett69 @blumenkraft @funk_lady @jcw724 @kseven @intzt @xoxocita @werkwanderer @ehrenstrale @scienceresearch…
He shares his IG addiction with his wife Rossella nick @scarlett69 and they are married for 19 years now. They have one daughter named FRIDA. Beside its intense creative addiction, Stephan likes simple things. He enjoys to travel with children and play with them too. And love teaching them lessons of life and freedom which take them into creative journeys. He loves to ride his bicycle and can walk during hours and look all things up. One of his other passion is food. Mostly Italian and Japanese food.
We appreciate very much his answers to our Instagramers.com weekly interview.
..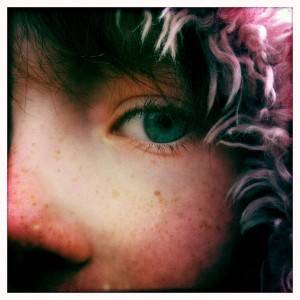 When did you first join IG?
I think it was about NOVEMBER last year. My userNAME was @kuenstlerkommando…. There were some interesting serendipities which took me to instagram. I am a person that always try to enhance its inner structure…I am totally convinced that some hands from my inner soul took me and gave me  the guide to instagram….it was a very cold day…and I was taking a long walk deep in the night in the forest….my iPHONE played wonderful music…I remember DAVID TIBET singing about the bloodBELLS that chime…and I wanted to repeat this song….my cold finger picked the phone out of my jacket and the appSTORE opened….and my first glimpse fell on featured (highlights) applications : INSTAGRAM…. It was 3.33am and a sign like this is for me a very particular one….I started reading what this funny named application hides….and I had an interesting feeling…with all that lovely surrounding that seemed to be the only possibility….why something had called me out…right into the woods to let my soul fly and find a kindlike portal of soul….INSTAGRAM.
So I started to post pictures from this moment on….and it became a quite interesting experience to overlook peoples intentions, inspirations, dreams, experiences etc. …the communication became more and more intense…and I found a good home of heart in my growing feeling of community…I started a kind of interactive storyboard….I called it the pilgrimer… a project in ART with an interactive development..my users started to move me by their comments and posts….it was a lot of fun…but someone didn´t think so….one day in January….I think it was around the 10th or 14th…my user got somehow flagged by someone…and all my posts were gone and I couldn´t enter IG anymore….I wrote several mails o the support but  I did never even get a reply….that was very hard for me…because I really had found a lot of very very good friends on IG….so I started with my new user @gladsheim and the rest you can see in my stream…a lot of my old users came immediately back to me…. That´s what I call ALLinALLmind…aVERYinteresting SOULtoSOUL movement…
.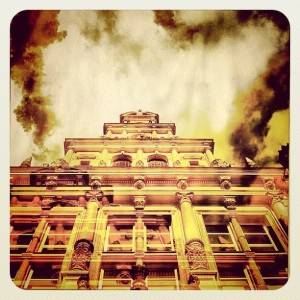 Do you feel addicted to IG?
YES and that more than I can express in words….I think the structure of humanity is about to change in one global mind… And IG is the best sign for this universal development of time, space etc. ….it is one of the most emotional networks all around the world….and that from the point of view of another kind of sight….let´s call it #LOVElovulutION.
.
Were you already found of photo before?
Yes all my life somehow….I remember me as a child playing with my daddies NIKON…my intention to create was always very experimental….I don´t want to portray what I see….because I see it…I am always on my way about to portray what I think and feel….about what I see when I feel it….and since iphone4….I got rid of all other possibilities of photography and videography….the perfect utility for me and the artist in me….the MATRIXmachine iPHONE….now I have to smile…YES I am an iPHONEhead….
.
For you which are the three best pic apps?
Definitely  photoFX…picFX….hipstamatic.
.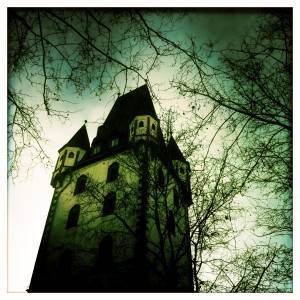 HOW long time do you spend a day in IG? doing what?
I AM BLESSED TO DO MY JOB IN ART….SO I CAN COMBINE MY INSTAGRAMMIN BEHAVIOR WITH MY WORK…SO IF MY TIME ALLOWS IT 24HOURS…I DID REALLY 56HOURS IN A ROW…. AS I TOLD YOU I AM VERY EXPERIMENTAL….SO IN GENERAL LET´S SAY ABOUT 6-9HOURS… AS MY INNER MATRIXMACHINE HAS A RECONNECTING  PORT TO MY OUTSIDE MATRIXMACHINE…. I AM VERY MULTITASKABLE….AND I CAN COOK…DO MY HOUSEWORK…PLAY WITH MY DAUGHTER AND HER FRIENDS ETC. …WHILST DOING IG…I COMBINE IT ALL WITH MY ART….BECAUSE I THINK ALL LIFE IS CREATION….IT ALWAYS DEPENDS ON THE ATTITUDE HOW YOU THINK LIFE IS CONSIDERED TO BE…. SO WHAT DO I DO THERE:
I am very good old fashioned…and the poet in my heart….forces me with happy smiles to reply every comment I get…. and even to look up all the beautiful entries of my #COMEunity let´s me write even more loveLETTERS to my beLOVED friends on their feed… so I take all my global surrounding worlds of lovely friendsINheartANDsoul to be my MUSESofMUSES … and that enhances the artist in me and my heart every day more and more….I love to post to look upand  to write interactive stories…I love to bring people together in projects like #ixiteam #humanize #thefursandbootsclub #thegoodshiplollipop #abnormal  #lightlightwithlight etc. etc. etc. and I love to take part in challenges that inspire me….like these days #LANIEfantasyCHALLENGE or the beautiful challenges of @acrew ….
.
Is there a lot of Instagramers in your country?
I think yes…I got a lot of german followers….and I had some beloved #photowalks with some good friends from IG.
.
How did you get so many followers in so little time?
I think it has something to do with the matrix….smile….AGAPE seeks AGAPE…finds AGAPE….shares AGAPE… just kidding…I think I am a true person…and share my reality….and I am very thankful that my followers take care of me…. and I love to communicate with all my muses…
..
Which is your favourite pic?
There is really no possibility to say this….I collect my most desired inspiring ones in my #gladsheimsfavs and my mind in this world of wonders grows EVEryday…
.
Your first reaction when you had your first pop?
I started to smile…but my mind has a very anarchisticARISTOCRATIC structure….and I have to say that it really doesn´t interest me if an image of mine pops or not….I always have to smile when people post their screenshots of popular pictures….I am more interested in communication….and not in hunting my EGO…I hope I didn´t bother anybody….but it is indeed a good way to get to know other people….I don´t look that often on the popular screen…I love to follow serendipities….and I find very talented persons via the support of my followers….
.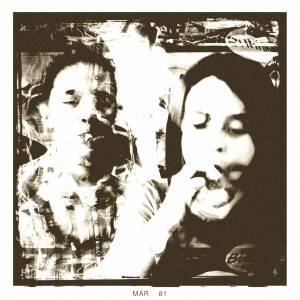 Do your "non instagramers" friends and family are bothered by your IG addiction?
WHEN I first started yes indeed….but as they know me as the person that I am….they learned to accept it…. they can always say….artists are artists….they are all crazy somehow….I like SALVADOR DALI´S confession…. the only difference between me and a mad man  is that I am not mad….that´s it….but I learn EVEryDAY….and I enhance my structure to be faster with in and output….MATRIXagain….smile…. #EQUINOX … a big smile AGAIN…
.
A trick you would recommend?
Be aware of yourself and keep the eyes open…follow your instinct…and your feeling…and have your MATRIXmachine always in standby mode…to glimpse your soul in the outside world….look up reflections in any kind….and be experimental to perfectionize your style.
Something you would say to a new user?
Find your own structure….of what you want to create…this is no game….there are no winners or losers….how many people follow you or not should never import….learn and be nice to each other…ask as many IGers as you want about their works…ask for their apps….follow @londongirl she is the best teacher of #iphoneography….create your own #COMEunity in this most emotional COMEUNITY ever….and be true to yourself….express only what you really want or desire….whatever it is…. accept NOs an YESs from others….and please don´t write comments like…." pls follow me or check out my pics"….let time be your friend….and have funFUNfun….however your fun is structurized….be INSTAGRAM because it is a heart of soulsINsoulsINone …
.
Thanks very much Stephan aka @gladsheim for this powerful moment and interview with a so sharp and creative soul.
@philgonzalez