Each week, Instagramers.com discovers new people.
People addicted to Instagram revealing their lives, passions, tips in Instagram. Sometimes original and creative or with a glamourous and surprising life and sometimes simply normal people probably like you and definitely like me.
Here "most popular" or "number of followers" won't be relevant at all. Just People with something in common. Their addiction to Instagram. This week, we meet…
.

@inckognito  "A shiny smile coming from the cold"
.Her

Every morning when i wake up as a real Instagramer addict, i turn on my Iphone and check my Instagram. Like probably lot of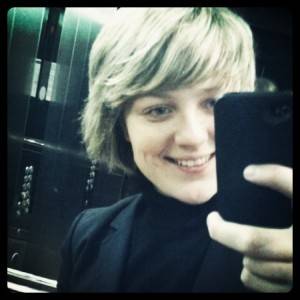 Igers, I prefer to spend a little time at bed watching others friends pics, before to wake up and run to work.
Are we really Crazy people? Probably.
However, to me,  it´s a very special moment to enjoy and dream!  Be transported everywhere in the world just for few minutes is great. People saying "good night" with nice californian beaches pics and other people having lunch in Japan.
In between, Russia.
Every morning an instagramer from Moscow pics her daily routine.
She pics the underground life, hurry people, full buses, cold tramways, busy snowy streets. I love it!
I don´t know her at all but her smile on her profile pic says it all.
She is a sincere and nice person who loves people. Probably shy and very humble young woman, she probably loves to share her things, like she shares her feelings on her photos. I thought she deserved to be the guest of this third FocusOn.
.
Her name is Elena. She is from Russia.
She says she isnt a "pro" photographer even if she would have enough talent.  She works for an IT company doing some boring stuff and systems… Nothing really excited actually. On her free time,  she loves to play and watch tennis, that's her all-time passion since she was 7.
She was already a 'fan' of different social micro-blogging but recently she discovers IG. She admits that IG took a very special place in her life.
She appreciates specially the fact that silent photos could express sometimes even more than typing or twitting words. Pictures can be captivating and catch your attention.  Make you think, make you laugh or simply make you discover different sides of Russia and say 'Gosh, I never knew that Russia was such an interesting and sunny country' 😉
.
She kindly accept to answer to Instagramers questions.
.
When did you first join IG?
I first joined IG about 10 weeks ago, I guess… One day, I saw one of my twitter friends tweeted from IG app. I got interested and downloaded it. I clearly remember i looked firs for  Josh, IG user: @joshjohnson that is a super addicted and enthusiastic user. He was just starting with tips. It was time, there was no challenges yet on IG…
..
Why are you so addicted to IG?
I was firstly fascinated by this app cos´ I just got my first iPhone 4 ( I had only ipods before) and I downloaded many apps, including photo ones, so it was mostly a way to explore new possibilities of the phone's camera than IG itself.
Gradually I started making friends with many people all around the world. When you start being emotionally attached to something, you can be called "addict". You love IG , you care for others and you're genuinely interested in other people shots.
.
Were you already found of photo before?  
No, actually…
.
For you, which are the 3 best pics apps?
I am using Instagram App only.
.
How long time do you spend a day in IG? Doing what?
Erm… First thing I check in the morning is my IG stream (I do not check Twitter anymore!).  Then on my way to work, during lunch time and I sometimes I can peak during work. At night while heading home or to some other places. So how long time do we get? Probably like 5-6 hours in total? Haha, gosh, I realise, I am really addicted!
.
How did you get so many followers in so litlle time?
Very good question! I don't know!
I won the third IT challenge 'motion', yes. Probably that was the time when people started following me. Bless you all guys! And I got into popular page several times… Also, I noticed that there are more users coming every day to my profile since the app 'Suggested users' feature has appeared… I feel so unworthy, really *blush*.
..
Which is your favorite pic?
Hard to say.
I took a pic of a bicycle recently partially covered with snow. So far, I like it the best 🙂
.
What have been your first reaction when you had your first Pop?
I found out in my comments, I think it was user @elwood who said 'Hey, popular!! or something like that. I asked then, other people how they knew they hit the "Pop page" and I ended up turning ON notifications, haha. D'oh!
..
Do your "non Instagramers" friends and family are bothered by your IG addiction?
Not really. I have even 'converted' some of my twitter friends to Instagram religion and made them get the app 🙂
.
A funny anecdote in your short Instagramer life?
An awkward one. That's just happened to me 🙂
I was sitting and playing with few train shots and filters just the other day. I was very tired and sleepy so I ended up posting some terrible metro shot and when I woke up like 10 minutes later (because I dropped my iPhone) I found out people started to give "likes".
Gosh so embarrasing! I deleted the pic and then I thought if people liked maybe it wasn't so bad actually 🙂
.
A trick you would recommend?
Take quality shots! 🙂
.
Something you would say to a new user?
Don't be shy and post more comments!  Get involved into conversations! That's how people know other people and make friends. Your positive interest in other people's shots is a key.
Otherwise you'll get bored quickly from the app.
You see, it's not Flickr or Tumblr. IG is a special place with special bright extraordinary enthusiasts! I LOVE IT!
.
Thanks very much to Elena Makeeva user: @inckognito.
She is for me another clear example of nice people you can meet on IG.
@philgonzalez