FocusOn Instagramers 1.35: @Awnoom
.
Each week, Instagramers.com discovers new people. People addicted to Instagram, revealing their lives, passions, tips in Instagram. This week, we dedicate our weekly interview to a great guy called @Awnoom.
I met his stream very few days ago through as Instagram Team featured him in their " week on Instagram" post.
Few days ago, we featured here in our FlashOn section, @noom1973 and I thought a "Thai week" would be a great idea.Two different points of view of such a beautiful country. Thailand really deserves it.
.
My name is Athipan Wongsuebyut.
.
I born and raised in Bangkok, Thailand. I'm a Graphic Designer and Photography is my  favorite hobby. Really, to say the truth, I´m in love with Photography.
I started shooting pics with a DSLR camera and  you could find most of my pics collected in my personal flickr page.
When I work for my clients at the agency, I never feel free to be creative as I would like and Photography is like a kind of escape. I take pics of my town, bangkok and I like to share with the whole world, the beautiful place that exist in Thailand.
Beaches, temples, small streets, traffic jams, chidlren playing, people in the street. Simply, the world that surrounds me.
I started to take pics with my iPhone some time ago and i never stop til now. Hope it will be a long love between us.
Thank you Athipan for graciously accepting to answer our weekly interview! (You can see all his gallery in Instagram here.)
.
When did you first join IG?
.
I joined Instagram in October 29th, 2010.
I was searching some applications in Itunes and I saw Instagram listed in top download rankings in the free application category. I decided to try it for a while.  At that time, I didn't know much about the application itself.  I only used it to edit and apply filters to my photos.  After a while, I got follow from @pketron who I knew yet from Flickr and it was funny to find people from other photosharing network. She was my first follower and she brang me back to Instagram after I quitted the app for a while.
.
Why are you so addicted to IG?
.
I like to keep all my "souvenirs" through photos and build like a photo diary. Probably, in the future, when time will go by and I will be interested in having a look back to my past, Instagram will be probably here to remind me all these moments.  I particularly appreciate Instagram is "easy and fast" . You can post photos, communicate with people all around the world in just few seconds.  It helps me meeting new friends through pics and people I would have never met probably. I think I have a very simple style but I´m so honored people appreciate it. I love shapes, patterns and simple forms. I try to find out those elements, creating symmetries and well-balanced compositions.
.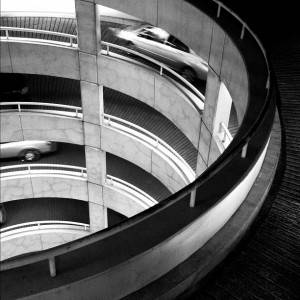 Were you already fond of photography before you started instagramming?
.
Yes, I was very fond of photography before Instagram. Moving back to my student and university life, I remember the first time I learned about shooting was a Black and White photography project.
I had to do it all by myself including developing the film and printing the photos. When I saw my first pics slowly showing up from the chemicals sink, I was simply amazed. When I started working as graphic designer, I started to spend more time with photos.  I had to look from different view points as i was always in touch with photographers in my own job. Sometimes I couldnt get the picture i wanted for my design works so I decided to start studying photography myself. One day I bought a compact digital camera to take photos based on my own sight and point of view.
Photography became then an important part of my life. With my Canon 5D Mark II in my bag and my iPhone in my pocket, i feel really well equipped.
.
For you, which are the 3 best photo apps?
.
My three fav apps are PS Express because it´s very easy to use for "desaturate" and "straighten" the image. Camera+ for its large range of white balance options and Photo fx, to fix "lighting" problems in pics. For a lot of my pictures, I even just used filter of Instagram app itself. For me, simple things are the best ones.
.
How much time do you spend on IG on an average day? And what do you do?
.
Normally, I spend most of my time in Instagram in the morning just after I wake up and at night before I go to sleep.
During the day, if I have a little free time at work, I check pics from people I follow and answer comments.
.
Which is your favorite picture?
I took this photo at the Fair. I was looking for a nice sight but it was very difficult. I wanted to take just simple pictures and not offend the eyes.
I walked to this "loudy" place with an atmosphere mixing disco music and human screams.  I looked at the sky to find some clear space in the picture.
My first shot was blurred.  I decided then to wait until the Feeris wheel raised to its peak and just before it fell down, I shot. And I got an amazing picture I think. Well, personally, I love it.  Iphone is really extraordinary…
.
What was your first reaction when you had your first Pop? And do you still like this picture?
.
Absolutely, I felt excited and happy when I saw for the first time this message informing  "Your photo made it to the popular page!" The photo is still one of my favorite today.
.
Are your "non Instagramming" friends and family members bothered by your IG addiction?
.
I don't think so.  I lived with people who aren't very interested in photography.  Thus, I try to take photo alone.  I like to take photos of things surrounding me so it doesn't really bother anyone around me.  If I, suddenly, see something I would like to shoot and I´m with friends, I just ask them if they don´t mind me going back for taking those photos.  Sometimes, my friends ask me about my really passionate way of taking photos and why I take so many pics? I just show them photos in y iPhone and they changed their questions to "how did you take this???"
..
Tell us a little bit about Instagram addiction and users in your country?
There are a lots of Instagrammers in Thailand.  I think everyone who has an iPhone will have sooner or later, Instagram as one of the basic apps in their devices.  Even my boss is always talking me about Instagram!
.
You've been informing about recent floods in Thailand. Did it change the way you see Instagram now?
.
I did both things with different reasons.  The recent floods in Thailand lasted several months. Victims look like a terrible fall of dominoes which created a huge panic among the population. Particularly among people living in potentially affected areas.
I live in Bangkok so me and my family were awaiting for our hour, like the "last domino".
When the flood reached finally Bangkok and it had not affected my area yet, I went out to take photos. I thought it was one of the worst moment in all my life.  I felt like sharing with my friends in other Bangkok districts and informing my Instagram's friends network about the situation. I went to places, I could not imagine flood will affect.  This is the main reason, I  took photos.  I tried to find a way to inform about the situation in our town.  After the flood affected directly my home, I had to stop working and I stayed at home for almost two weeks.
I needed to adapt myself to this new and uncomfortable and stressful situation (lack of food, health and basic cleanliness), I started thinking about an activity to find a way to escape, rowing my nephew´s boat, riding a bike in the water or simply fishing and I started looking for new points of view through my photographs.
.
A trick you would recommend?
.
If you take a photo and you like it… At least it´s the best photo for you.
.
Something you would say to a new user?
.
Shoot Pics, Try to be Creative, Be Honest, Have Fun and Share with your friends.
.
Thanks @awnoom! Very glad to share your experience and thoughts here.
You can see his Gallery in Instagram here.

@philgonzalez

W