FocusOn Instagramers 1.41: @Kainxs
Each week, 
Instagramers.com
 discovers new people. People addicted to 
Instagram
, revealing their lives, passions, and favorite tips in Instagram.  Today we feature
Gabriel Kainxs
. He has been part one the first "early adopters" of
Instagram App
in
Spain
and today, one of the most "followed" user in this country.
 .
His name is Gabriel Samper
But we all know him as @kainxs. He was born in Torrevieja (Alicante) and he is 35.
He studied law at Alicante University, and qualified as a lawyer. He also specialised in insurance broking. He is married to "patient" Vanesa and they have a 3-year old son #kainxsito.
He has been very involved in music over the years, has belonged to various choirs and has sung in operas and "zarzuelas".  He has always been passionate about photography and, thanks to Instagram, he has discovered his real hobby.
He recently organized the First Instagramers Congress ever, in his town (see pics of the amazing event here and video of Making off here and we thought he really deserved this interview.
.
Thank you Gabriel for graciously accepting to answer our weekly interview! You can see his Gallery in Instagram here.
.
When did you first join IG?
I joined on 31.10.10 and posted a photo of the Mediterranean. (He is user number: 118.886 of more than 60 million Instagram users)
.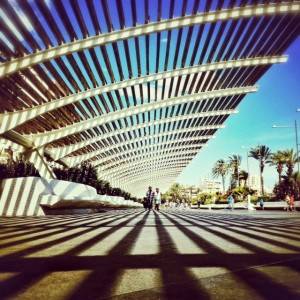 Why are you so addicted to IG? And how would you define your own style?
Having no other experience of social networks, Instagram changed my life. Because it's focused on photography, allows you to edit photos to produce a completely new way of looking at things and due to the friendships that I've found. I've got to know people from different cultures with different ways of understanding life but with a common passion for photography.
.
Although I don't have a specific style, there is one particular thing about all my photos, which is that they all have people, usually in the distance. This led to the creation of my "hombrecitos" tag  (means small people), which now has 5,000 photos from everywhere in the world. Having people in a photo humanises buildings, streets and helps a composition a lot.
.
Were you already fond of photography before you started instagramming?
I always loved images but I'd never thought about taking them and posting them for other people to see. Instagram really opened that door for me. My iphone is the only camera I have in my home.
.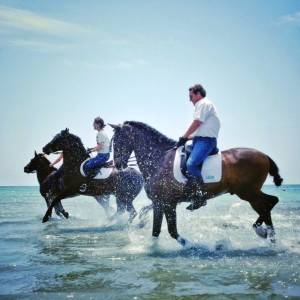 You recently organised the First Instagramers Congress in Torrevieja, Alicante, Spain. Can you tell us a little more about it?
I decided to hold a serious exhibition of iPhone-only photography in my home town, Torrevieja, and that we could invite the people whose work would be shown to attend. This led us to think about asking some of those people to give talks in parallel with the exhibition.
I put the idea to @PhilGonzalez, who runs the Instagramers.com website and whose help I really needed, and he agreed to help. In September 2011 the conference started to take shape (#Torrevieja2012) and in the months after we put in a lot of work to make it a success. The excellent work put in by Phil, Clara Soler @clara_soler, Clara Montesinos @claramon and the good people at FIE (the Spanish iPhone photographers organisation) were key to the conference's success. We had more than 80 media representatives, blogs and national and regional television companies cover the conference as the first of its kind in Spain with this format (exhibition, conference, party and photowalk). We used the tag #torrevieja2012 from February and we now have 14,000 photos with the tag, of which, 2,500 are of Torrevieja.
How did you get so many people to attend?
The event attracted around 200 people, including delegates, guests and presenters. As the first event of its kind, we ran the risk of no-one turning up but we were confident that the Spanish instagramers would respond – and they did. After the promotion by our Instagramers, FIE and the conference's own social media, we had representatives from almost all the Spanish regions: Madrid, Catalonia, Valencia, Andalusia, Balearic Islands, Castilla-La Mancha, Castilla-Leon, Galicia and Cantabria. We also had some guests from overseas: the UK, Holland, Germany, Italy, Finland and Russia.
It wasn't easy getting everyone here because it's not the largest or best connected town in Spain so the number that did make it is testimony to the passion that people have for Instagram.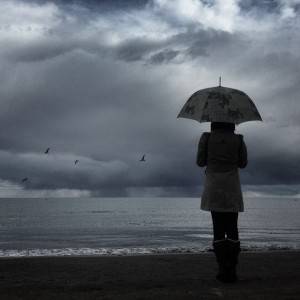 The first conference was sponsored by a lot of brands. How did you manage this?
Although no-one could have predicted the media interest that I mentioned earlier, the Torrevieja town council gave us the necessary infrastructure to hold the conference over the weekend: the town theatre, the exhibition hall and the staff. And the Costa Blanca Tourism board signed up to the conference as a way of promoting the region  and so we had a second public institution on board.
And then some leading private organisations such as Desigual, Ford, BMIBaby, Tecnicongress gave us some financial backing to run the conference very professionally. And we have them all to thank for a project that started out as nothing but an idea. We believe their backing was fully reflected in the success of the conference.
How much time do you spend on IG on an average day? And what do you do?
I can't always post up a photo every day due to work and personal commitments: sometimes I don't have time to take or edit. Though I try to go onto Instagram during the day and comment on my friends' photos. I prefer to comment on other people's photos than to try to respond to all the comments I receive. I usually spend a couple of hours or more per day.
.
What's your favourite picture?
It's difficult to pick just one from my album but there is one that I hold very dear and it's of my son Gabriel #kainxsito. It was just after a summer storm and his shadow and reflection appear in a puddle. It really captures a very special moment for me.
.
For you, what are the best 3 photo apps?
I usually use Hipstamatic, Snapseed and Cameramatic.
..
Are your non-instagramming friends and family members bothered by  your IG addiction?
Of course our close family and friends have to put up with us when we disappear off into this other world. Since 2010 I've succeeded in keeping the addiction under control and I try to organise my time at home and when I'm with friends so that it doesn't interfere. I really have to thank my wife for her patience during the run-up to the conference when I was very busy organising the event.
.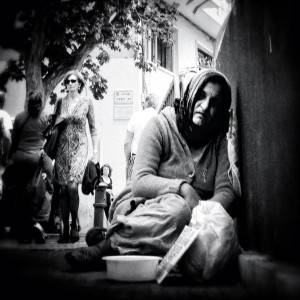 What trick would you recommend?
I don't have any particular tricks to recommend. I would say to my IG friends that they should post up photos that they really feel strongly about and which say something surprising to other people. I'd also say don't post up photos for the sake of it, retain some critical awareness and know that not everything is worth it.
.
What would you say to a new user?
Instagram is an incredible social network, with great people, where you can learn a lot. Though you should keep it in check and avoid getting addicted. We shouldn't forget the real people around us.
.
What users would you recommend?
Two people have been very special for me the entire time I've been on IG. One is the Mexican Millo Saldado @mifjuz and his Colima beaches and his really great use of Hipstamatic and the other is from Murcia, Jose Antonio Consentino @murcielaguillo who has a very personal style. Both are really great at expressing a feeling more than just a picture. I would recommend both.
.
Thanks very much Gabriel @Kainxs for your nice comments and interesting interview. Keep on the good work!
.
@philgonzalez
 .
You can see him here (with a nice tie) in this video recap of our last Instagramers Congress in Torrevieja. You can follow me him on Twitter as @Kainxs
..
We take once again the opportunity to thanks to all amazing partners and sponsors who supported Gabriel´s Instagramers Congress project.
 .
COSTA BLANCA ,s bmibaby,  DESIGUAL  special partners of Instagramers and our friends of FORD and Torrevieja town.
Plus all the sponsors that helped us in making this event so huge! Bodegas Tío Pepe, Blopies,  Casetagram, el canal de TV de Canal Odisea , Fever Tree,  Fotógrafo Antonio,Fundación Dr Soler, Hotel Cabo Cervera, ImaGINe 2.0, Imprenta Luque, Gin Martin Miller, Olloclip, Puma Time, Sevilla Creativa, Tecnicongress , Turismo de Torrevieja y Viveros Valentín.