FocusOn Instagramers 1.45: @ClaireOnLine
. 
Each month, Instagramers.com discovers new people. People addicted to Instagram, revealing their lives, passions, and favorite tips in Instagram.  Today we feature @ClaireOnLine .
@ClaireOnLine is part of this big Dutch Instagram Fans Family.  The Netherlands have been an awesome nursery of Instagramers streams and we discovered yet great people like @Croyable (see post) , @Mariannehope (see post) @Sfennema (see post)… and so many more!
 Claire is definitely one of those "Early Adopters" who started really soon sharing pics onInstagram. She is really very appreciated by users who like minimalism, nature and "pure instants"…
You can follow her on her beautiful and pure Web Site , Twitter Profile and Pinterest Board.
.
Her name is Claire Droppert…
But everybody knows her as @ClaireOnLine.
.
She is 35 years old and living in Rotterdam (the Netherlands), together with her boyfriend and their 3 years old daughter Sarah, who is her great inspiration in a lot of her pics. Lol.
She works in Rotterdam as a graphic designer at an advertising agency and as a freelance photographer. She was born in Hoek van Holland, a small town near the beach, in the south-west of the Netherlands.
As you can easily guess, she is a big fan of beaches, and other open spaces where she can stare in long distances. She guesses this shows in her feed as well.
You will understand through her feed the breadth of sights a small country like The Netherlands can offer to Igers eyes.
.
Thank you Claire for graciously accepting to answer our weekly interview! (You can see all her gallery in Instagram here.)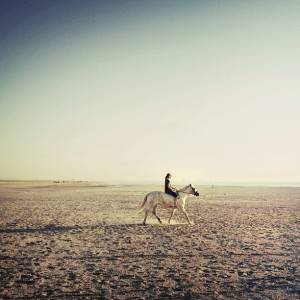 When did you first join IG?
That must have been around january 2011.
Why are you so addicted to IG? And how would you define your own style? 
I think it is great to follow what is happening in the world, through images. It's like a visual storytelling, a news-update… And the connections you can make around the world. The ease of interacting with the instant feedback and sharing a common passion for photography is a great thing!
I think one of the characteristics of my style is that there is always a distinctive silence to be found in my pictures. I have a strong preference for subjects as landscapes and desolated spaces. I guess now that I'm living in a city, its the everyday rush that makes me capture places that have a certain tranquility.
I get inspired by combinations of simplicity and minimalism.
.
Yes. My first passion of photography was when I was twelve, trying to capture lightning storms from out the window. With an old Pentax SLR, I wasted all my pocket money on developing possible chances of a lucky lightning shot. My passion for photography was there for a long time, but actually started to grow more when I came in contact with digital photography. It became a little bit more affordable…lol.
I got myself a more serious camera when my daughter was born, I love to capture her life in images. lol.
I started mobile photography end 2009, using my first iPhone. I couldn't carry my dslr with me all the time, so now I was able to capture these special moments with my iPhone. At first just snapping every day moments, experimenting, and playing with apps, and after a while on Instagram. Seeing all these great artists on IG, really inspired me to challenge myself more into iPhoneography.
Which are your 3 fav editing apps?
.
I love the selective adjust tool, you can edit your photo precise where you want it to.
Two other apps I frequently use are
Imageblender
(to reduce or to exaggerate an effect), and
 Luminance
. The editing possibilities of that app are great! I'm a bit of a nerd geek when it comes to exploring new editing techniques.
I love to experiment with apps.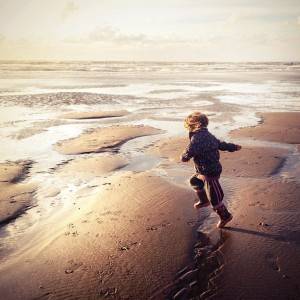 How much time do you spend on IG on an average day? And what do you do?
.
That depends on how much time I have… Sometimes one or two hours, and somedays just a few minutes. Although I don't post everyday, I do go through my feed to catch up those I follow and try to reply as many comments as I can.
Which is your favorite picture? And the techniques you used?
.
I think that would be this one of my daughter. She was thrilled to go for a little walk on the beach after dinner, and it happened to be one of those beautiful evenings, where the sun set in an amazing light. Combine that with a happy girl who's having fun while jumping over water… the perfect moment! Lol. I didn't edit much in this one, just a bit of a vintage filter in Snapseed and straightening of the horizon.
Did Facebook acquisition changed your feelings about Instagram and your involvement in the app?
.
At first I was very skeptical about it. But fortunate there are no major changes going on, and the joy continuous. But I must say, Instagram as a small and close community, will never be the same as it was before.

You probably remember your first reaction when you had your first Pop Page? And do you still like the picture?
.
Yes I did! Finding myself there was so unreal, I remember taking a screenshot of my photo being on the popular page. Lol.
By the way, what do you think about the new Discover Page replacing previous Popular Pages?
.
I think there's no difference in the new discover page than there is in the previous popular page. Just a different name. I catch myself taking a peek now and then, hoping to discover new talent. But there's a lot of nailpolish in between…
Which main improvements would you suggest to the Instagram Team? Are your worry by recent problems of spamming or hash tags crashing?
.
I would love to see all the spambots disappear, more and more fabulous feeds are polluted with spam comments. I know the IG team is working hard to fix this problem and I truly hope they can stop it! Another thing is that the news stops at 100 notifications. It would be a big improvement to see a larger limit, or perhaps a split in comments, followers and likes, so we don't have to miss out on anything.
.
I'm noticing that there is a vibrant and active IG community in Holland. Since I became a member of
@igersholland
, I'm even connecting with more
Igers
from here. I really enjoy seeing dutch images in my feed, and staying up to date here as well.
Something you would say to a new user?
.
I think Instagram is a great way to express creativity. Do exactly what you find interesting, and always be curious in what you like! But most important: Get involved, interact and have fun with other Igers!
A user you would recommend?
.
O, thats a tough one! There's not one in particular, there are so many I would like to mention! For instance, everyone I follow. But I think these Igers are a great inspiration for me an really deserve more followers!
@panyrek, I admire her work, love her soft touch in photos!
@isteef is a fantastic illustrator with a good sense of humor, who often draws on bananas… lol
@lec101, for she has a beautiful simple style and a great feeling for composition.
@littlerose81 All her images look like paintings, I adore the tones in her feed!
Speaking of paintings, you really should check out @balqi, his images al all truly amazing with a touch of a dreamy feeling.
And last but not least, @ledart, I love his simplistic fresh style!
Let´s Instagram Holland!
@philgonzalez