Each week, Instagramers.com discovers new people. But today People are sad. The strongest recorded earthquake to ever hit Japan triggered a powerful tsunami wave that devastated parts of the coast of Japan that will have probably terrible effects. Today Instagramers FocusOn is dedicated to Instagram World Support to our Japanese friends and we lived this horrible day.
.
Friday, 11st of March, Japan.
.
This black friday will be remembered as the most powerful earthquake to hit Japan in recorded history struck, collapsing buildings, touching off widespread fires and unleashing walls of water up to 30 feet high. Leaving probably thousands of people died…
.
Instagramers.com decided today to dedicate its FocusOn weekly to the massive global movement in Instagram around Japanese Disaster. This is a tribute to all our japanese friends who suffers and all our thousands of IG members who shown today through their pics all their big humanity, concern and support. This spontaneous act shows how Instagram links people souls all over the world.
.
@HavaHava from Tokyo told us this horrible day through Instagram.
"I´m alive in Tokyo". This pic of a friend i follow in IG astonished me this morning.  Tomonori Haba, living in Tokyo (Japan) was claiming he was alive through Instagram. Instagram was not only a question of fun anymore but a communication tool to know what was unfortunately happening in the other side of the planet.
It was the first time in our short Instagramers life we could see the power of information of our Global Instagram Information Network dedicated to other things than the usual "have fun, creativity and happiness".. It was probably only the beginning of  very sad days to come.
.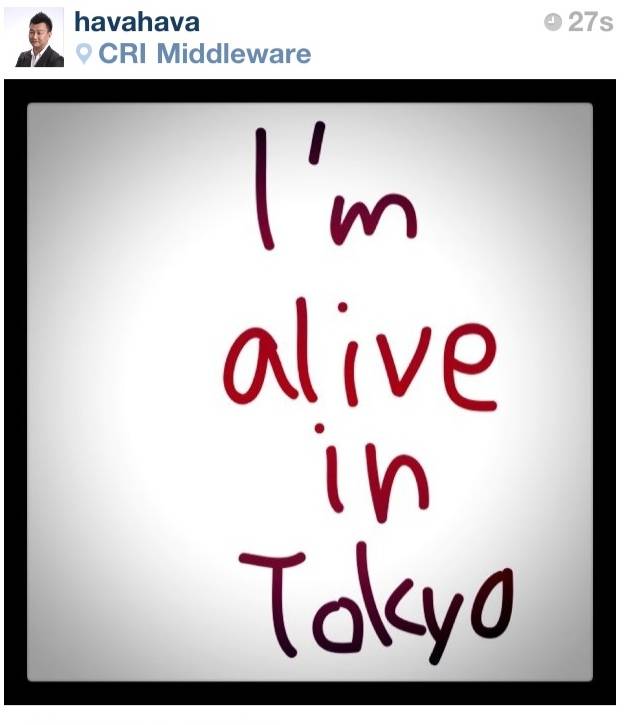 @HavaHava, Instagramer from Tokyo.
… Story of a black day with tremendous consequences for Japan and the whole world future.
.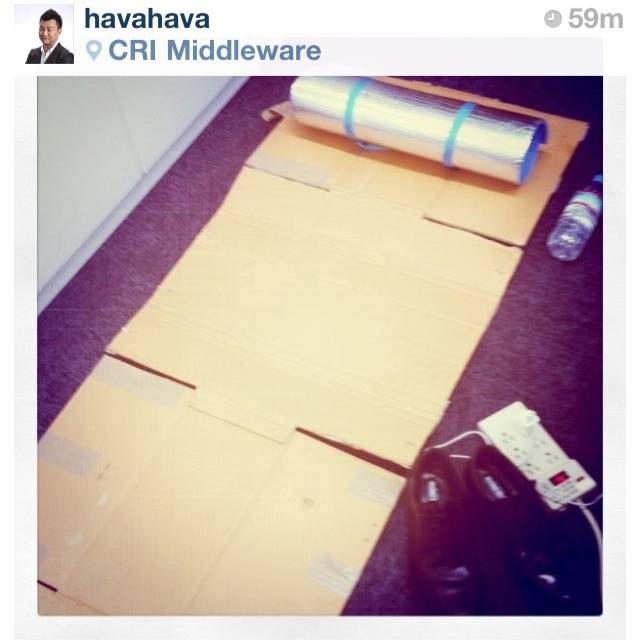 .
@HavaHava, Instagramer from Tokyo.
… Story of a black day with tremendous consequences for Japan and the whole world future.
.
.
Since the first very hour, a movement grew in Instagram #prayforJapan
… An hashtag to support our Japanese friends. Less than 12 hours after the cataclysm, more then 2.700 pics were yet posted #PrayforJapan hashtag and dozens of different hashtags appeared.
During all the days, hundreds and hundreds of pictures posted.. Sadness, Hope, and Love and affections messages…
.
Instagram demonstrated the engagement of our users community. Here just few examples of people support all around the world…
.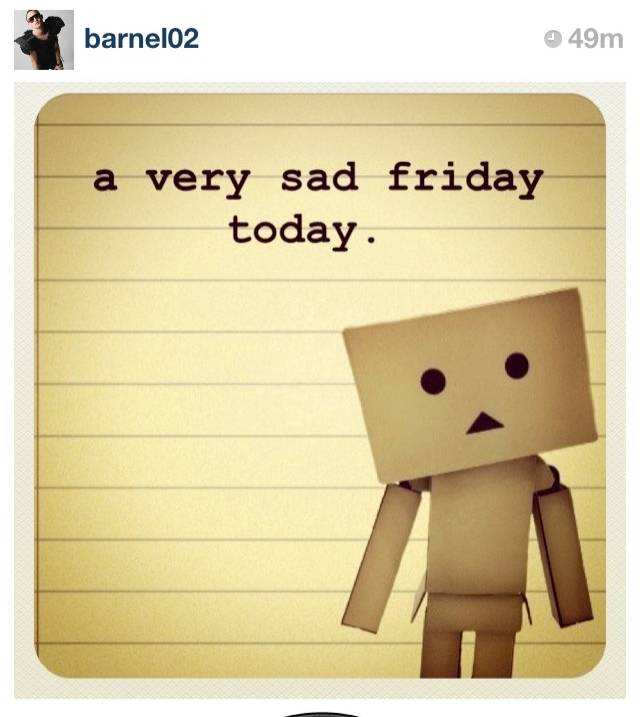 .
@IgersBcn, since the very first moment followed the movement when they heard the news…
.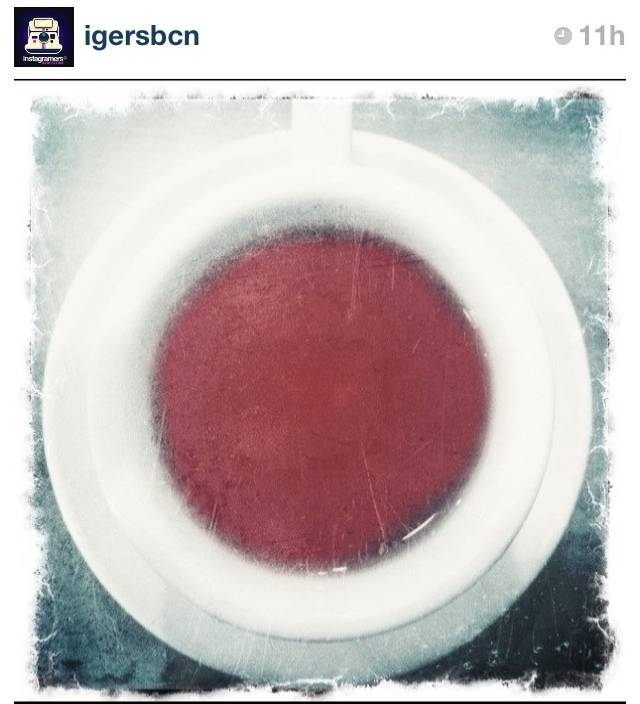 @IgersMadrid, "mosaique" of all its members #PrayForJapan contribution in just on Pic.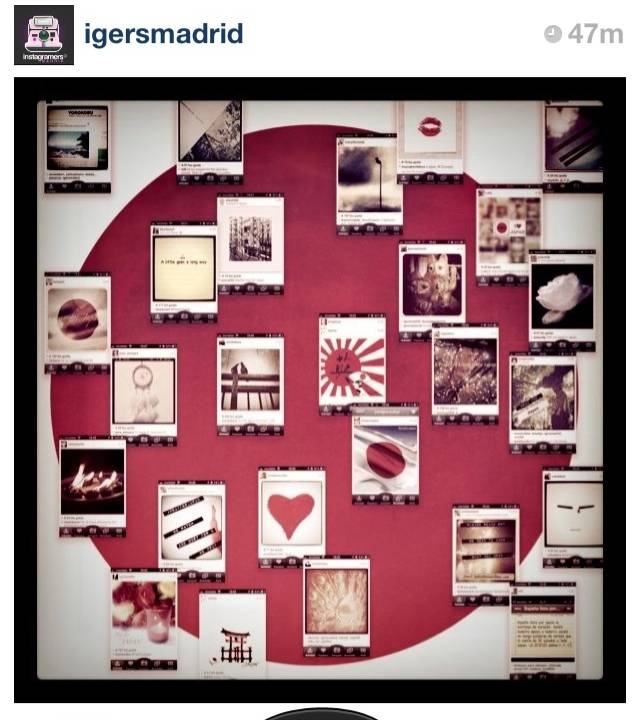 .
Today "Most Pop" were no important at all anymore and were fully dedicated to the Japanese cause…
… All day long "Pops" showed global support movement all the world demonstrating the huge concern of all our community.
.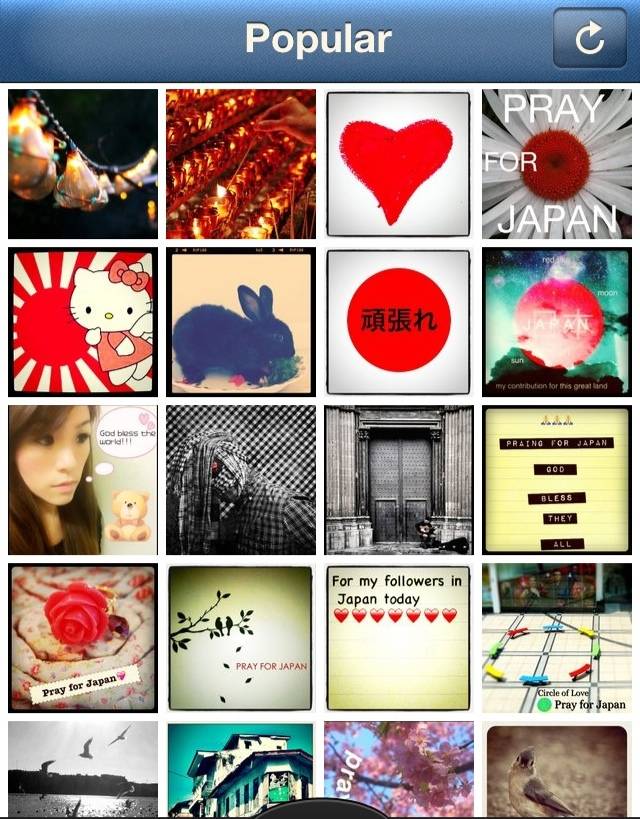 .
With some Igers Friends from Madrid, from @igersBcn (Barcelona) and @igersMadrid we decided to change our profile pics by a Japanese Flag… until….. Join Us!!!
.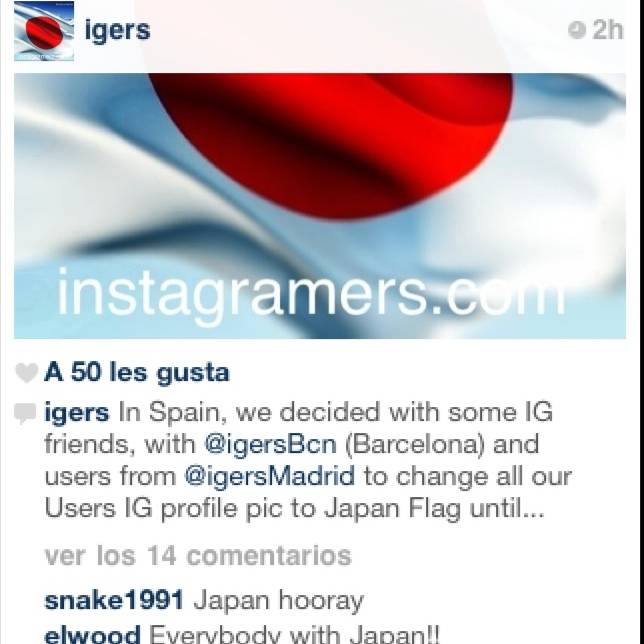 When Mother Earth is so cruel there is very few things we can say or do… We hope that our Japanese friends will soon feel relief.
From Instagramers.com all our love and affection to all our friends who are suffering.
.
If you want to make donations to

Red Cross,

please click here.

.
All the #PrayforJapan Pics contributions are available on: