Each week, Instagramers.com discovers new people.
People addicted to Instagram revealing their lives, passions, tips in Instagram. Original and creative or normal people probably like you and me.
Just People with something in common. Their addiction to Instagram. This week we meet a very special user to me @richnyc
Rich shows us NYC life. Streets scenes, subway faces and original people he meets everyday in his walks. I thought his work deserved to be known and shared.
.
@richnyc, New York from the inside.
.
He is just a guy from Europe who found himself in New York City. He grew up in a small country of Slovakia near a stunning mountain range in the north of the country, High Tatras. I suggest you to have a look to this beautiful and unknown place of central Europe.
He left it very quickly though as an eighteen year old, first to study in Germany, for four years, and after that he packed his bags and arrived in the United States. From the first day in NYC, more than 15 years ago, he knew that this was going to be the place where he wanted to live… " I have been mesmerized by its unstoppable energy and frantic pace and been living in or around NYC ever since…" he says.
.
A City guy who enjoys travelling and re-awake in unknown environments.
.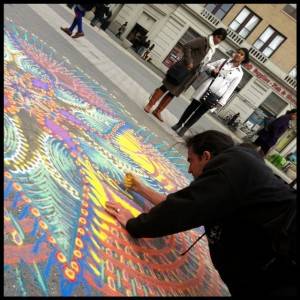 Even though he´s firmly a city guy and do love NYC, from time to time @richnyc needs to leave the city chaos behind and get away for a while to travel to places as different from NYC as they possibly can get to 'shock' his senses, re-awaken his desires, immerse himself into unknown environments and re-experience life and its random joys…
He likes them to last as long as possible and jump into them with minimal preparations. Exciting adventures when not every single detail is known ahead of time…
He usually ends up 'vagabonding' somewhere in Asia, mountaineering, trekking, cycling or train hopping through cities and countryside; or if closer to home, you will find him in the Rockies, mountain-biking. "With a camera, hopefully, but not always!"
Getting out of his own 'comfort' zone, again and again, on these spontaneous adventures, has helped him to stay 'alive' and humble he says.
.
If you want to know yourself better, discover different cultures.
.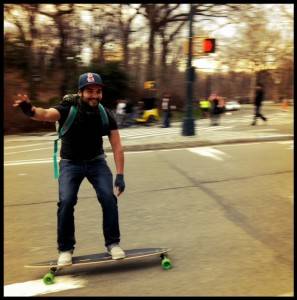 Also to get to know himself much better and encounter human kindness and compassion that made him a big believer that despite many religious and political differences, culture and language barriers, we are all decent and kind people and not that different from each other. But every single time he leaves, he always loves coming back to NYC.
Rich simply likes to experience the world around and what better way to do it than with a camera, just like an iPhone, and share those moments with others, hopefully to inspire them to follow their own dreams…
Richnyc kindly accepted to answer to our questions.
.
When did you first join IG?
In the second week of January, if I remember correctly…
.
Why are you so addicted to IG?
I think 'addicted' would be a little too strong word… But yes, I do love the community of people who are passionate about life, sharing their stories and pictures… It is unbelievably exhilarating to see the world as experienced through someone else's eyes… And I met many new friends here in IG, online or in person, who share my love of photography and I always will be grateful for it.
Here, I gotta give a huge shout out to @sionfullana who I didn't even know a month ago. When I learned through the Instagram about his iPhoneography presentation, I knew I had to see it. He inspired me to start pointing my camera more toward people, trying to capture human emotions in the streets of NYC. In the past, I always admired street photography but was too scared to point a real camera into people's faces. But now, shooting with an iPhone, it became a lot more enjoyable. So, thank you Sion for all the encouragement!!!
.
Were you already found of photo before? (Were you already fond of photography before?
Yes, I was taking pictures for a long time, mostly just snaps to document my vacations and travels, without any artistic ambitions whatsoever… But I have been an avid reader and student of photography and its history appreciating and learning from the masters who came before me… Only in the last year though, I decided to explore photography in a more serious way… And the Instagram became a huge part of it… Taking pictures daily, trying to do something, anything, creative every single day, helped me to stay focused on my creative process.
..
For you, which are the 3 best pics apps?

I'm not big on photo apps. Yes, I do have too many but I really end up using very few… I like to keep it simple, focusing more on capturing those fleeting moments of life in front of me rather than trying to re-create the 'magic' in the post processing… That's just the style I prefer personally… So, the most used iPhone photo apps would be, in order how often I use them: Cameramatic, Camera+, Filterstorm, Hipstamatic, PS Express… With the first two being used probably 90% of the time… By the way, I stopped using the built-in Instagram filters completely. After their novelty factor wore off, they became just too harsh and distracting…

.
How long time do you spend a day in IG? Doing what?
In the beginning, I used to spend three hours, sometimes even more, mostly posting photos, reading replies and responding to followers… I always joke that the Instagram has become my Facebook and Twitter combined, but with amazing pictures. But lately, I've trying to bring it down a little…
.
How did you get so many followers in so litlle time?
It is simple: Being proactive really makes a difference. From the beginning, I tried to check out pictures and follow people whose creativity with this little iPhone 'thingy' I found inspiring. I tried, and still do, respond with real and sincere human interest to others photos and stories behind them. Most people respond to it very positively and will sample your photos, too, maybe even follow you…
.
Which is your favorite pic?
The skateboarder in the Central Park… I was lucky to capture the scene as I imagined, just perfectly. But even more rewarding was the fact that I saw him coming up behind me a few minutes later… I decided to approach him and let him see his picture on my iPhone. He liked it so much that I offered to send it to him. Later, I received an email what it meant for him and how grateful he was for capturing this moment of joy and happiness.
.
What have been your first reaction when you had your first Pop?
I was surprised, didn't expect it at all, a little flattered, too…
.
Do your "non Instagramers" friends and family are bothered by your IG addiction?
Not really, they just keep asking me how many followers I have. Hahaha…
.
A funny anecdote in your short Instagramer life?
Not really, nothing comes to mind…
.
A trick you would recommend?
To shoot candids and get close, I like to plug into my iPhone with headphones, sometimes listening to music, many times not… If I see something interesting, I will try to position myself to get light from a decent angle, if I have time, and wait and shoot…
..
Something you would say to a new user?
Enjoy it, have fun, interact with people whose pictures you like and it's going to be a great ride. I promise. LOL
.
Thanks very much to Rich (user) @richnyc
Hope you will enjoy discovering his stream and beautiful pictures of New York City.
@philgonzalez