Import your Instagram Pics directly to Flickr
.
You Love to Share your Instagram pics with your non Instagramers Friends? Here´s another solution.
.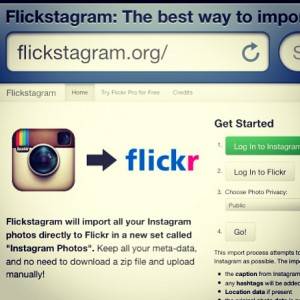 As you may know, there is already a lot of options to import your Instagram Pics to other platforms like Facebook (check Statigram or Ink361) or to download them easily to your pc (check Instaport for example) but today we bring you a new way to import your pics.
Flickstagram will import all your Instagram photos directly to Flickr in a new set called "Instagram Photos".
The tool Keep all your meta-data, and you have no need to download a zip file and upload it manually to Flickr anymore.
.
The process attempts to retain as much of the original data from Instagram as possible.
The imported Flickr photos will include:
– Caption from Instagram
– Hashtags will be added as Flickr tags
– Location data if available.
– Original photo date is preserved
And all Instagram comments will be imported as well.
.
You can check more details in their web here
@philgonzalez