Instagram 9.0: Dynamic Light a New HDR App
.
As some of you may know, I´m a real big fan of HDR Apps. And most of all, HDR Pro.
Like loads of Igers, I love the HDR Filters effects, powerful colors, contrast and artistic results. Life is sometime so boring. Make it funnier!
You may also know that a lot of existing editing apps like Camera+, Filter Storm etc.. provide you an HDR effect in their special effects range filter but here we will talk about HDR apps to shoot Pics with an initial HDR Effect.
You may tell me that in the applestore, just by typing HDR there is more than ten of them. So which HDR App should you use?
Among them, HDR Pro is definitely my fav. Few weeks ago we published a post about it and I suggest you to have a look.
But today we will talk about a brand new one. The Dynamic Light App.
Dynamic Light seems to be very welcome by its "early adopters" and I asked @myriam40a one of our first Instagramers.com friend to explain us the "pros and contras" of this new exciting photo app.
.
Dynamic Light review by @Myriam40a
.
Hi Buddies,
I just discovered Dynamic Light few days ago and I fell in love at the first sight. It is definitely one of my favs app.
It´s easy to obtain similar effects as HDR one´s but avoiding to take a double pic shot. With existing HDR apps, you have to take two pics with 2 different exposures and then mix them. It´s easy but quite long. On this basis you can change tones, colors, contrasts…
But with Dynamic Light, the work is easier and quicker. You can even edit a picture that wasn´t previously taken with an HDR and apply the HDR effect with astonishing results as you will see in the pictures attached.
.
The HDR Level Wheel.
There is a "HDR level" wheel that allows you to apply more or less "HDR" effect and it´s very cool. There is 3 levels. Low, medium and High or you can do it manually with the central wheel.
You have also the possibility to compare the Original and filtered with a split picture.
You can also use a predetermined "Fx" effect. Personally, I like to use the "Orton" Filter. because it provides supernatural and fuzzy effects. All my friends are surprised with my last creations.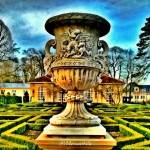 Even pics you found uninteresting in your camera roll will reborn magicallly with Dynamic Light
It´s definitely an app I would recommend to all IG and Iphone Photographers. Most of all to HDR effects lovers. The app is less than 1 euro (dollar) and it really worth it.
So don't waste your time and download it asap!
@myriam40a
.
We want to thanks Myriam to participate in this Instagram 9.0 and welcome her in our Instagramers.com support staff.
You can Download Dynamic Light App here
You can find more info about HDR Pro app here.
Thanks for your time and interest,
@philgonzalez