Instagram hit by a powerful storm in North Virginia
.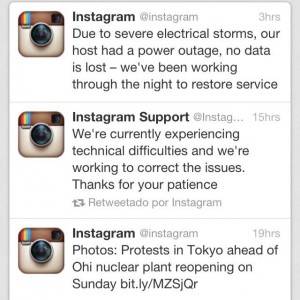 As you may have heard, Instagram has suffered last since Friday night a powerful storm in Virginia affecting our fav photo-sharing app.
Instagram headquarters are based in San Francisco and electric storms hit North Virginia.It sounds curious but every single people working in Internet know how servers allocated can affect your own little start-up thousand miles away.
According to Mashable,  is that's because Instagram, like many major web companies, uses an even bigger web company — Amazon — to host its traffic and data.
Amazon Web Services (AWS) powers businesses like Foursquare, Netflix, Pinterest that have been affected too…
Instagram team informed us through its help Center that neither pictures, nor datas were lost. So don´t worry for your likes, followers or pics!
.
Hope the service will be soon fully restored. In the meantime, follow last info at our Instagramers Fan Page and my own Twitter account.
Let´s Instagram the world!
@philgonzalez