Instagram Iphone Pocket Tutorial
.
@kessedjian is Isabelle Kessedjian…
.
I follow Isabelle for a while now.. I think since she started or had less than 50 users… and i was surprised by her stream.
Her own funny creations soon caught the attention of thousands followers who appreciate her work!
.
Few Days ago, she published this awesome "Instagram Iphone Pocket" in her Instagram User profile @kessedjian and I posted it to @Igers account.
.

Between the two accounts the pic had more than 1.500 likes! Amazing!
.
She kindly accepted to share her Tutorial or How to in her blog.
.
More about Isabel:
.
Isabelle is a Parisian artist.
.
.
She has created her own dreamy world in her workshop in Montmartre: her famous pictures Quand je serai grand
.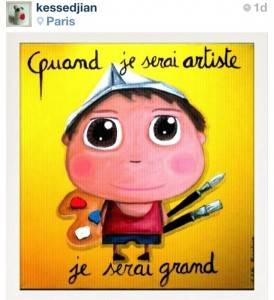 Among others, cheerful classes for children and adults, her two little boys taking a smack among paintbrushes, nice neighbours, many plans for the future…
.
"Crochet" is one of her favourite media and she sets up every week the inescapable challenge of "the serial crocheteuses".
.
Her pictures and their pretty variants (bags, beauty kits, cuddly toys…) are successfully marketed throughout the world by Le coin des créateurs.
.
Isabelle has also published two books with Fleurus/Mango. Isabelle enjoys reliable working, good laughes and simple kindness.
.
For further information, you would always be welcome on her blog.
Being an Instagram addict, Isabelle give you a litte gift: The explanations of the crocheted i-Phone case is available especially for Instagramers on her blog from  Saturday 11 June.
.
Thanks so much Isabelle to share your tips!!!
.
@philgonzalez