Instagramers Gallery New 2018 Artists and Party in Madrid
We've got news for you!
This week we have been celebrating in style, with friends, music, laughter and a lots of photos at Instagramers Gallery Madrid!
It is already the fourth anniversary of the Instagramers Gallery in Madrid, and we want to thank Espacio Fundación Telefónica for making this possible year after year. And also La Chrome, our new printing partner. Come and check it out!
We are thrilled to introduce you to a new team of Instagramers Gallery artists!
This year we count with many national artists from Spain, but also talented artists from Italy, Mexico, Iran, Venezuela.
Meet them all!
.
Natalia Ferreiro Colmenares
Madrid, Spain
"The idea of ​​"madridneoyorkino" (means Madrid New Yorker) is prior to Instagram. I always thought there was a kind of connection between my beloved Madrid, and New York. I started selecting pictures reflecting New York mood in Madrid… And until today!"
Dedicated to @nata_41, who will always be in our hearts.
.
.
Elizabeth de Prada
Madrid, Spain
Dreams, visions and shadows. Elizabeth's work is inspired by nature, literature and symbolism. "Since childhood I had an obsession with drawing and art in general." She is specialized in Painting Restoration. Her work appears in books, and magazines from all over the world.
.
.
Raul Amaru
Madrid, Spain
Graduated in computer engineering, Raul left this profession to dedicate himself to photography. He has studied photo-reportage and photo-journalism, as well such as the Master PHotoEspaña "Theory and Artistic Projects". He has participated in exhibitions in NY, Dubai, Madrid, Seville, Bogota, Lima and Quito.
.
.
.
Juan Bermúdez Romero
Granada, Spain
Author of the illustrated novel 'La Torre'. He works as cartoonist and Youtuber, integrating traditional drawing methods with digital techniques. Kaos has illustrated the comic book 'Adelita Power: The Origins' and the poetry book 'La Viajera Incandescente'. He has also participated as cartoonist in the newspaper Maracena Ideal.
.
.
Nacho Rodríguez
Valencia, Spain
"I'm a photographer and filmmaker with a long passionate experience in the media world. I show my daily life through compositions with few elements, simple colours and geometric figures. I can't think of another way of life than behind a camera, photography is something unique, stunning and unrepeatable."
.
.
Norman Gracia Román
Barcelona, Spain
"Born in the 80's, looking quiet on the outside but highly restless on the inside. With my photographs, I try to tell stories in a simple and plain way. I'm particularly keen on reinterpreting objects, observing things to discover that they're not only what they look like at first sight."
.
.
Raquel Carmona Romero
Córdoba, Spain
"Photography came late in my life but it came on strong. I feel that through it I can tell those stories around the table and show the beauty of the ingredients. Drawing with light is my obsession, the shadows, the contrasts, the colors etc. "
.
.
Hugo Castro
Torrelavega, Spain
"How can I express what upsets me or makes me happy when I just can't find the words? The way I found to get rid of some of my demons and connect with sensitive people was by creating these little visual compositions."
.
.
Juan Pascual Marcos
Navalmoral de la Mata, Spain
"Technical architect. In 2010 Instagram changed my vision of photography completely, from being a work tool or preserving good old memories to a way of observing the environment. Due to my profession, my attention drawns to facades, streets, perspectives, lines and architectural details."
.
.
Nestor Barbitta
Buenos Aires, Argentina
"I'm an image and sound designer, a professional photographer and one of the coordinators of the Instagramers community in Buenos Aires. I love experimenting with all kinds of technologies, a small camera, a SLR, a cell phone, a roll camera, a 360 camera, a drone etc. "
.
.
Amalia Pereira
Caracas, Venezuela
"A collage takes pieces of the universe around us and builds another universe. Literature and music are my creative inspiration and pieces of my collage. My influences: the Baroque, the Italian painters of the Quattrocento and photographers like Robert, Shana Parke, Rodney Smith, Richard Avedon, Irving Pen etc. "
.
.
Consuelo Cabiedes
Oviedo, Spain
"I was born in Oviedo and I have been living in Madrid for the past years. Although my professional field is the law, I have always taken many photos. I show the world as I see it, in color or black and white, enhancing simplicity and lines, but always, I hope, with a positive and optimistic point of view."
.
.
Khodayar Ahi
Teherán, Iran
Khodayar Ahi is an Iranian painter, photographer and architect, raised in an artistic family. He began as a graphic designer in a number of International companies in the Persian Gulf region. After finishing his studies at the Tehran University of Art, he continued his art activities by exhibiting his works in painting and visual art.
.
.
Pilar Martínez
Reus, Spain
"I bought my first camera when I was nineteen years old. After being graduated in Photography and Digital Creations, I started working in a photography agency and an art gallery. In 2010 I started focusing in other personal projects. I am rediscovering myself physically and express my feelings and the most occulted pains, altogether in a black and white format."
.
.
Julio Valencia
Lima, Peru
"I founded an inmersive technologies company one year ago. We create virtual tours and BTL activations with virtual reality lenses. Our purpose is to promote destinations that are not easy to reach. Once this content is produced I like to play with the abstract projection that each image can have."
.
.
Paola Rojas
Bogotá, Colombia
"Photographer and director of Colombian art. Six years ago, in a personal search, I started portraying myself and found in photography, a means to open my mind and the mind of others. My creations are nothing more than the sum of the interests I have had over these years: the himan body, sexuality and color etc. "
.
.
Orlando Rojas Ortega
Mexico City, Mexico
"I'm a self-taught photographer, it came to me by chance and it became my passion. I currently work as a freelance photographer in advertising and social photography. I am part of the @IgersCDMX team that aims to show new talents within the Instagram community in Mexico City. "
.
.
Andrea "Style1" Antoni
Monfalcone, Italy
Andrea is an italian freelance graphic designer graffiti-writer. In 2015 he wrote his first book "Find your own identity on Instagram, and share your best pics" and in 2017 his project #STAILtone became viral worldwide. The project consist in creating compositions using locations, food or something from his life with the Pantone formula guide.
Special guests!
We were very honored to be having among us Carlos Latre and Albert Llovera!
Carlos Latre 
Humorist, actor, presenter and one-man show. Carlos is performing for more than 18 years, he has presented and directed numerous television and radio spots and has achieved great success with his theatrical tours, which counted with almost 2 million spectators in Spain. He is considered the best imitator in the country.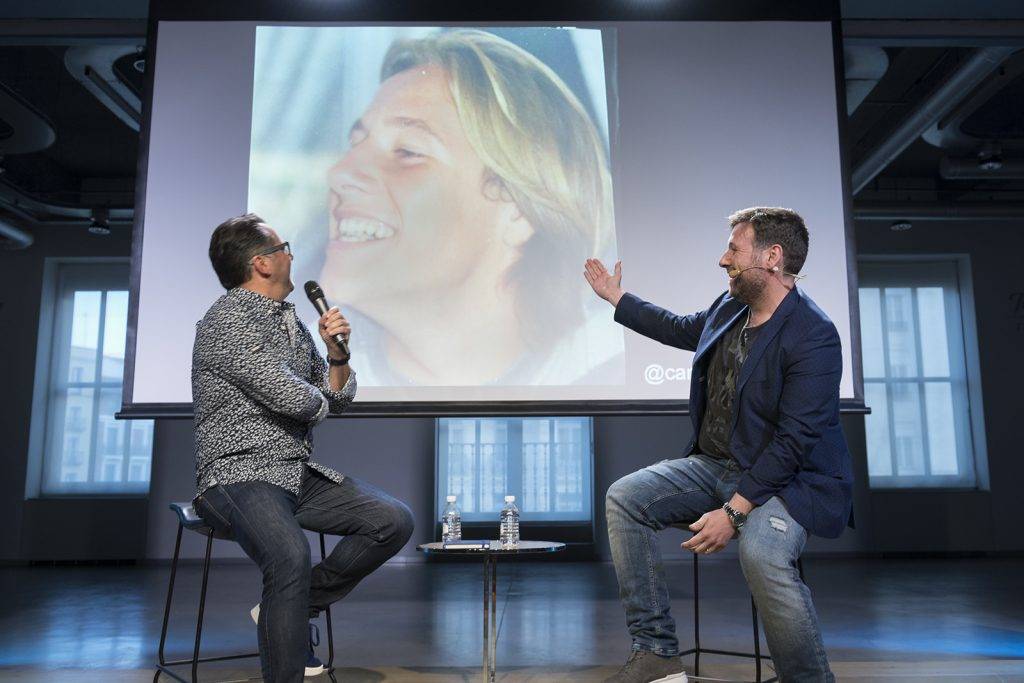 Albert Llovera
Albert is a rally driver and former alpine skier of the Andorra team. He became the youngest athlete to compete in the Winter Olympics in 1984 at the age of 17. A serious accident in 1985 left him paralyzed from the waist down. Since then, he has dedicated himself to the world of rally, using specially adapted cars.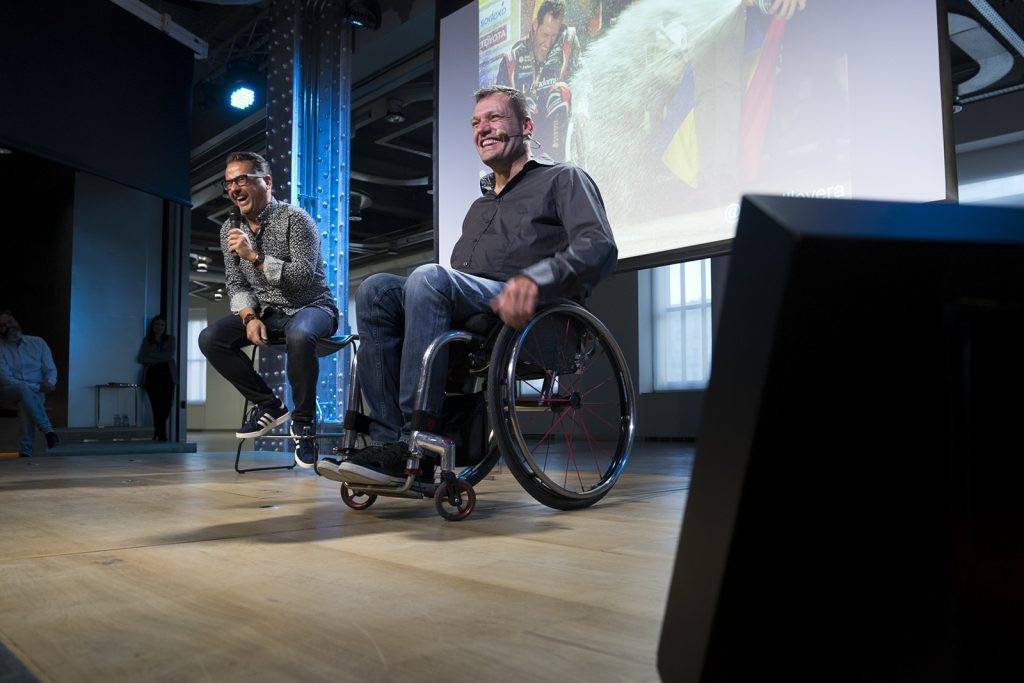 You can see their pictures among the national and international artists.
 .
.
Meanwhile in the public…
.
This slideshow requires JavaScript.
After the opening words from Elena González, responsable for the Instagramers Gallery at Espacio Fundación Telefónica, Raquel Carmona, our foodie artist, was also invited on stage to tell us more about her love for food and the art of making such stunning photographs.
.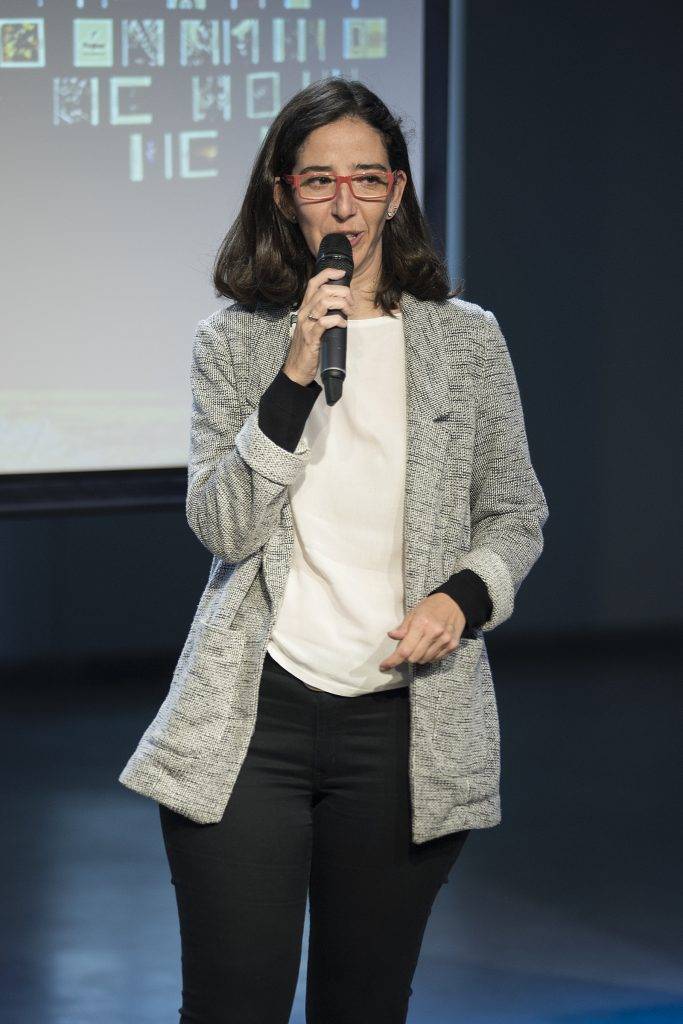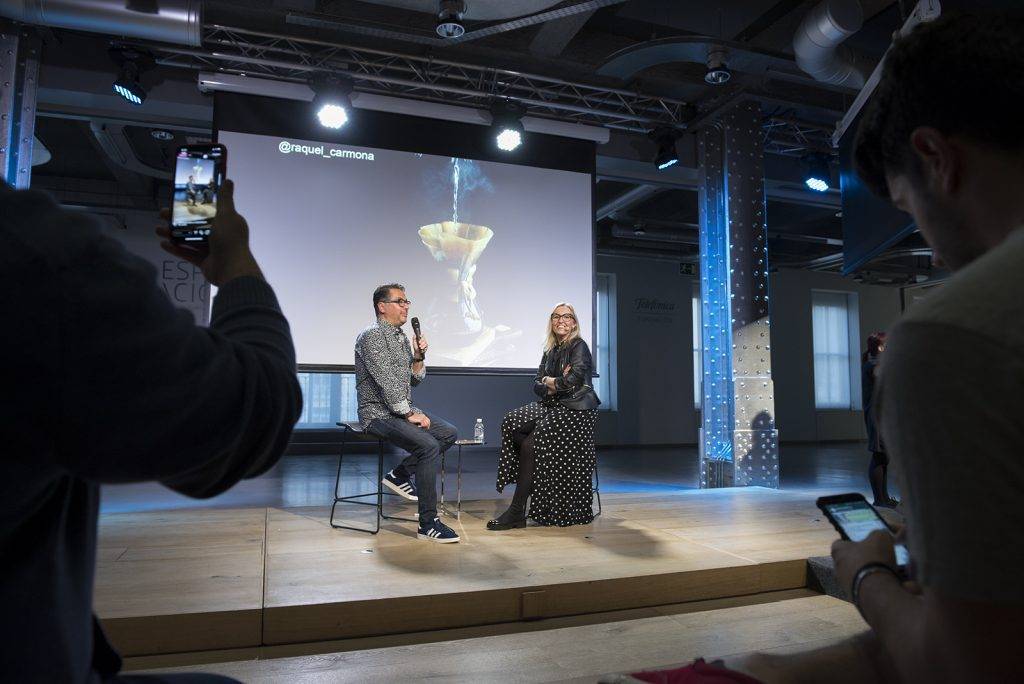 .
Phil Gonzalez, together with Eugenio Tuya from PhotoClub (Anaya) presented his second Instagram book: Instagram y Más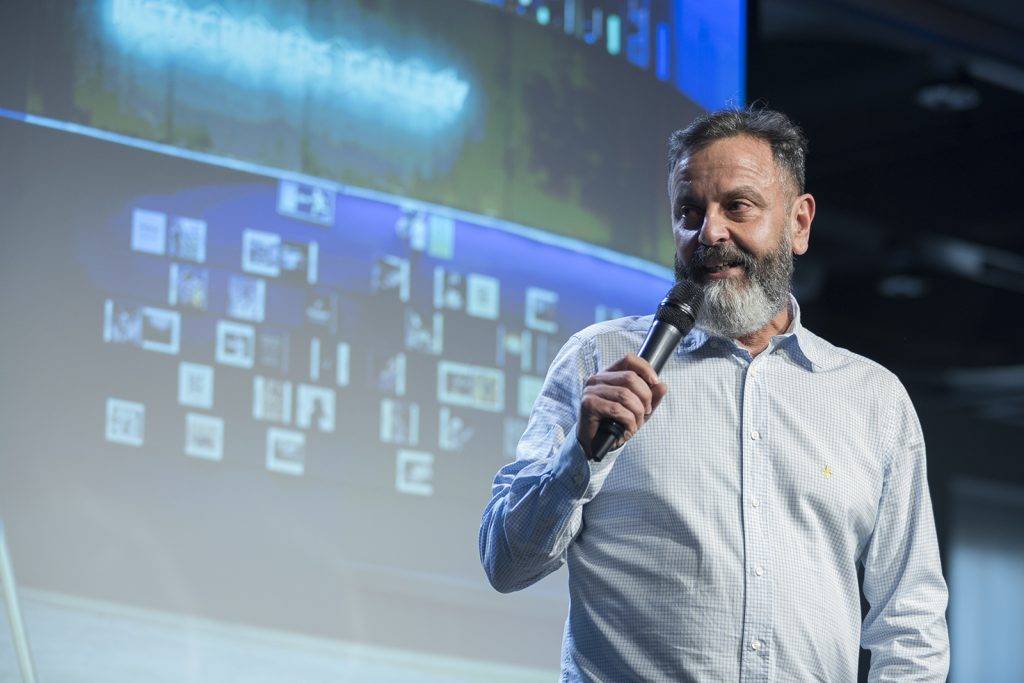 x.
Luis Díaz from H2H agency told us about their viral campaign: How to become an influencer with 500 euros showing the "dark side" of Instagram.
Kimberly Sunster finished the evening of speakers, together with Phil González presenting the new artists and the upcoming photo-contests and workshops! Keep tuned –> @igersgallery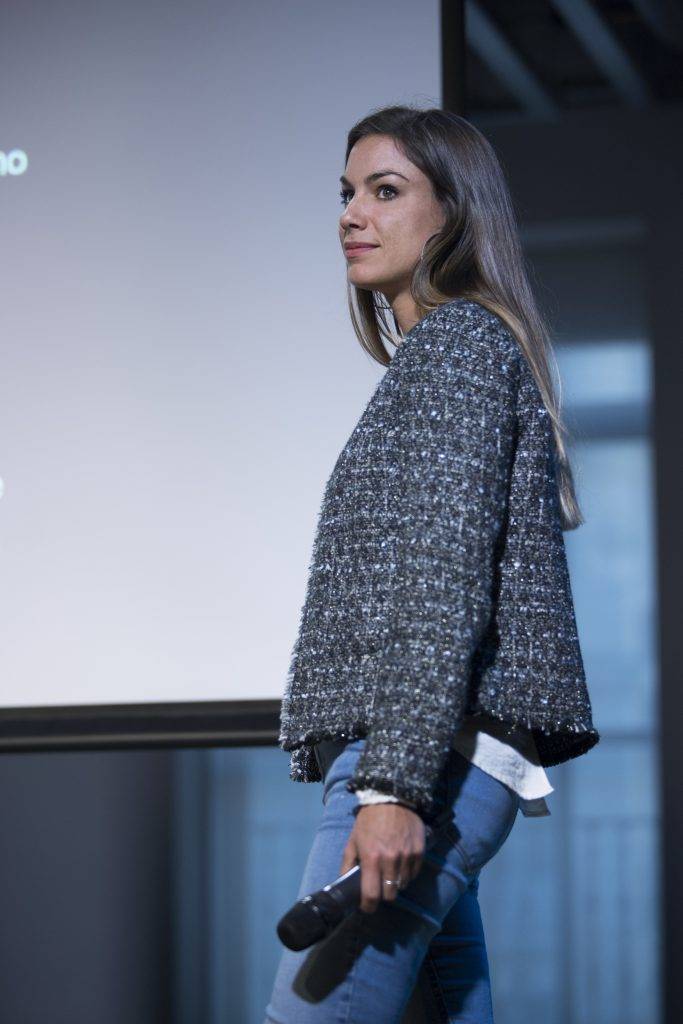 .
And then.. There was the party!
.
This slideshow requires JavaScript.
Well Instagramers, it was another successful and great night to remember at the Instagramers Gallery!
Thank you all for coming and stay tuned, more is coming this year!
.
A BIG THANKS to our partners Espacio Fundación Telefónica and La Chrome, whithout them, all this would not be possible.

We are open from Tuesday to Sunday from 10am to 8pm.
See you there!
.
Fuencarral 3, Madrid
.
.
.
.
More pictures
.
This slideshow requires JavaScript.