Instagramers Madrid invites you to The World's Biggest Instameet in Flash Flash Madrid

.
Next Wednesday, November 21 is the date! We're celebrating our fourth Instameet in our favorite hangout, Flash Flash Madrid. Don't miss it!
.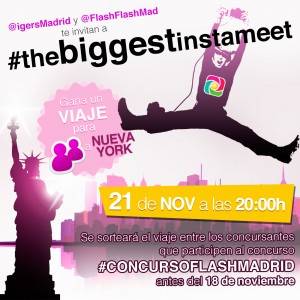 Our next Madrid event aims to be the world's largest gathering of Instagram users in the world to date.
.
Or at least, that's the idea … Flash Flash Madrid (@flashflashmadrid on Instagram) who supported Instagramers Madrid in our two events in 2011 is teaming up with Instagram again with an unprecedented hangout of Instagramers. Amazing, fun – and standing room only!
The World's Biggest Instameet in Flash Flash Madrid

.
To date, the biggest Instagramers instameet was probably Instagramers Barcelona's # SummerMeet of  at Hotel Arts (Barcelona) last summer with around 220 people, followed by the first Instagramers conference with around 200 people.
We'll be trying to beat our own record with #TheBiggestInstameet at Flash Flash Madrid, the best place to have "Spanish Tortilla" in the world.
.
Win a trip to New York for two, complimentary meals and a DJ party!
.
November 21 will be a big party full of surprises. From 8pm to midnight, you're all invited to enjoy cocktails and Spanish snacks, with music provided by @SolMusica Tv Channel Manager, Javier Lorbada.
During the evening Flash Flash Madrid will be giving away a one-week trip to New York for two.
.
How to enter the contest to win the trip? It's easy!

.
1) Upload pictures to Instagram with the theme of "Flash" before Sunday November 18 at 23:59:59.
2) Use the tags #concursoflashmadrid and #igersmadrid and enter directly in the draw.
3) Become a follower of Flash Flash Madrid (@ flashflashmad on Instagram and Facebook and confirm your participation in the contest with a message on their facebook page).
4) Each participant will have direct access to the draw.
5) And the takers of the 5 best photos as chosen by the Flash Flash Madrid team will win a dinner for two.
.
How to sign up for The World's Biggest Instameet?
.
Flash Flash Madrid  will be giving over the whole of its restaurant to #TheBiggestInstameet but it's always good to book via the Facebook page Instagramers Madrid where we created the event The Biggest Instameet, leaving a note of the IG name. Capacity 'limited' to 400 people.
Admission is free but to get in you have to be a FlashFlash Madrid follower on Facebook and Instagram.
So remember!
– Check out FlashFlash Madrid on Instagram, Facebook or Twitter.
– Book your place at the The World's Biggest Instameet on the Facebook Instagramers Madrid page.
– Participate in the contest to win the trip!
.
Hoping to see you on Wednesday November 21! Let's Instagram Madrid! Let's Flash Flash Madrid!
.
@ IgersMadrid
.
Photos: @ Bertho and @ flashflashmad