Instameet Instagramers Denmark together with Mobile Provider 3
.
Instagramers Denmark have teamed up with the biggest mobile provider in Denmark named 3. We are together putting a focus on "being in the now" and what is good behavior when it comes to smart phones. I.e. is it acceptable to check one's mobile during dinner with the family or friends? In particular we focus on when is it actually a good thing being online. There is no right or wrong, it is up to the individual what works for them..
During week 43 we encouraged Danish IGers to tag relevant photos with the tag #værtilstede (meaning "being in the now"). And these photos have been streamed live on 3's website..
On the 9th of November we co-host an event/walk where we focus on the same subject and there will be a photo competition – smart phone only. We will select two winners and the lucky IGers will receive an iPad and a hotel stay – sponsored by 3. On the day we will meet at 3' shop in the centre of Copenhagen and after a short brief and welcome everyone gets a coffee-to-go and they will have 3 hours on their own to try and catch situations that depict #værtilstede. Hereafter we meet again at 3's shop for a light dinner and the announcement of the winners.
.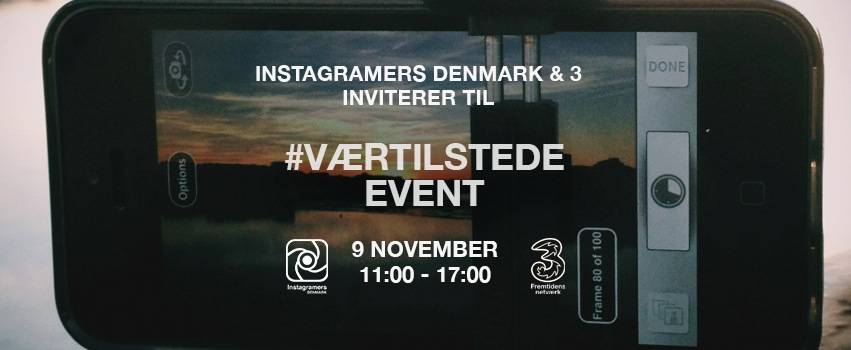 Hope to see you there!