iPhone5 made for Instagram?
.
It seems Mobile Photography is definitely one of the best "assets" for Apple and most of the Smart Phones Manufacturers. It´s also the results of these last years increasing of Mobile Photography, Photo-Sharing App and Social Networks (mostly Instagram ) booming.
Here some details that will change some Instagram/Apple Iphone users lives in the next few months!
.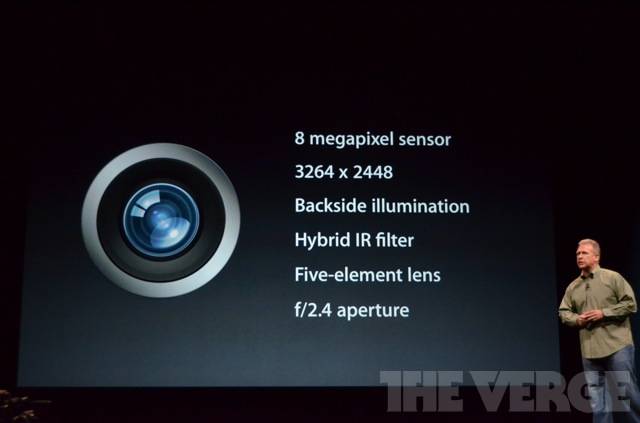 Photo credit:  live coverage from TheVerge.com
.
Digital Cameras most important assets are usually  weight,  size of the screen and of course the lens and image resolution. iPhone5 is definitely focusing on a future user interested by Mobile Photography and Photo-sharing social network. Here some details reported from today´s announcement in San Francisco.
– New iPhone is 18% thinner than iPhone 4S. (7,6 mm)
– 20% lighter than the 4S. (112 grams)
– Retina display, 326 PPI.
– New screen  is a 4 inch display.
– 1136 x 640 screen resolution.
– 16:9 aspect ratio
– Wider Screen allows 5th row of icons (interesting for the number of editing apps we use)
– Ultrafast Wireless Tech. New Wi-Fi, 2.4ghz and 5ghz
– 2x faster CPU, 2 X Faster Graphics.
– Camera with 8 Mega Pixel Sensor.
– 3264 x 2448. 
– Back Side illumination
– Hybrid IR Filters and Five Element Lens (suppose to improve pics quality a lot)
– Dynamic low light mode, precision lens alignment, sapphire crystal. (renowned for being hard and crystal clear)
– Better low light performance!!!
– This is 40% faster on photo capture!!!!
– Availability of Panoramic Pics (that will be difficult to handle in our squared format in deed lol)
– Incredible: You can take photos while shooting video.
.
You can read PetalPixel comparison of iPhone5 and iPhone4s of sample photos shots too.
.
We are really amazed by the new iPhone 5 features! Will probably be a "Must Have" in next Christmas Gifts List!!
@philgonzalez
All the detail in this amazing live coverage by The Verge.com