Join igersgalleryMadrid, inspired by Antoni Arissa's work!

.
Antoni Arissa (Sant Andreu 1900 – Barcelona 1980)
was one of the photographers who applied in a most interesting way the principles of the New Vision in the thirties of the last century, in Spain.
.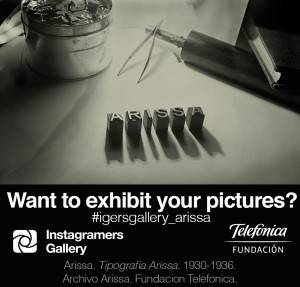 Graphics, typeface designers and printers, along with advertising photographers were at that time the first to use these techniques, driven by the avant-garde.
The gradual implementation of the principles of "typophoto" driven by Laszlo Moholy-Nagy, led to the birth of a new visual language in which photography became the substitute to drawing; renewing the design of posters, books, magazines and newspapers.
Arissa, a printer in function, became totally intrigued to this trend. He was a lover of geometry; the key elements in his pictures were oblique lines, shadows, objects, angle shots and overhead shots.
.
.
Join the competition on the occasion of the exhibition of Antoni Arissa
.
that will take place from June 4th to  September 14th, 2014
at Espacio Fundación Telefónica in Madrid.
For more information about the author and the exhibition, please visit the web
.
.
How to participate? It's easy!
.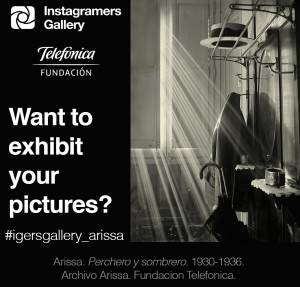 1) Tag your best photos (black and white) inspired by the work of Antoni Arissa until June 1st on Instagram with the hashtag #igersgallery_arissa
.
2) Remember that a important condition in order to participate is to be a registered user (with your correct username instagram) at www.instagramersgallery.com and to follow the account @igersgallery
.
3) You can participate between May 19, 2014 and June 1, 2014
.
· During the week of June 2nd, a jury composed by Instagramers Gallery and Fundación Telefónica will choose the best 30 photographs.
· These works will be exhibited at Madrid Instagramers Gallery on June 16, 2014.
· Photographs will be judged on their quality and originality and on their relationship with the proposed subject, inspired by the work of Antoni Arissa: oblique lines, shadows, objects, angle shots and overhead shots.
Do not hesitate. Become a member and participate to Instagramers Gallery!

.
@igersgallery team
.