@kimstamatic from instagramers.com featured in Estrella Damm's new summer spot!
.
Pack your bags and…. Go!
.
So what do you do when Estrella Damm (@estrelladammes) invites you to come over to cover and celebrate, during an entire weekend on an idyllic beach in the Costa Brava, (Catalunya, Spain) the shooting of their new Summer spot about year's most cultural event; Santa Clara Fest?
.
.
Of course, you don't hesitate a minute and you invite your friends too. In my case, I called my spanish instagramers friends:
@aangueraroig from Tarragona @claramon from Valencia
@photolari from Barcelona @pauliii28 from Leon
@pablodmartin  from Zaragoza @iphilar from Girona
@albertomakusikusi from Bilbao @cucocuervo from Madrid
.
We packed our cameras and we went to shoot some stunning shots!
You can find all pictures on Instagram here: #entrenaelalma #entrenalànima
("Entrena el alma" is Spanish for "Train the soul")
.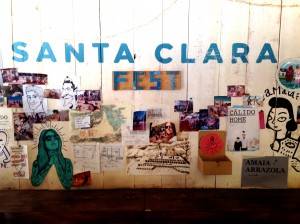 Santa Clara Fest
.
Santa Clara Fest is a cultural festival celebrated, this year on the beach in the Costa Brava, together with Estrella Damm, Spain's most Mediterranean beer, made in Barcelona.
.
When we arrived at the beach the first band was already playing and the sound of summer embraced us…
.
It was Me & The Bees. Their music is best to describe as hyper vitamined Pop, full of catchy and complex sounds. We took off our shoes and started to dance right away!
Another band that played during the weekend was Calido Home, a lovely Guitar Duo that plays with intensity, freshness, tenderness and darkness. The mix of these four ingredients makes their music unique.
I also became very fond of Coriolà, hipster boys playing clear and bright pop with touches of magic, their lyrics I liked the most. I recommend you to look up this artist and take their music to the beach this summer while getting tanned.
At night ELYELLA Djs played until the early morning hours. A mix of pop, rock, electronic music and not only that…. they all mixed it into a great show
It was surprising to discover so many talented Spanish bands.
.
Last but not least… we had the chance to meet The Vaccines! A fancy group from London playing Indie rock, no doubt that "If you Wanna" will be the new Summer 2014 hit!
.
"But if you wanna come back it's alright, it's alright! It's alright if you wanna come back! If you wanna come back it's alright, it's alright! It's alright if you wanna come back to me!"
.
And when we got tired of all that dancing, there were plenty of other cultural activities to attend at the mini-market where you had the chance to meet many creative Spanish artists.
.
Illustrator Amaia Arrazola. Graffiti artists Zosen Bandido and Mina Hamada. Borja González from YTUQUEPINTAS, the master of sand-art.  Yani Alonso, an illustrator drawing life as if it was a video game. Typography illustrator Joan Tarragó. Mariona Omedes, multimedia artist specializing in the creation of mappings (be amazed!). Sebastiaan Van Kempen from Úsame, founder of ´Koppen´ masks, creating furniture and lighting design with recycled material. And Xavi Mañosa from APPARATU, creating wonderful ceramics crafts mixing the world of design with familiar objects.
.
These artists really inspired me, or better said, they trained my soul. They encouraged me get creative. (Promise I will give it a try…).
.
But the best is yet to come!
.
While shooting Estrella Damm's new summer spot, I was #caughtgramming, better said…. Caught selfing!
.
Look at this!
.
.
Now let's see if you find me in their official video!!
.
.
Summer sun, beach, friends, music non stop, cultural activities, inspiring artists, a Mediterranean beer to freshen up, taking lots of photos… Resume: a festival to remember.
.
Have a look at the photo gallery and don't miss Estrella Damm's next Santa Clara Fest yourself. It's time to train your soul!
[Photo Gallery]
.
This slideshow requires JavaScript.
Let's instagram and #entrenaelalma!
@kimstamatic