Kisstagram, the Instagram based Hot Or Not
.
Kisstagram, who would you kiss?
.
Most of you probably already know , successful Hot Or Not website.  The site founded in October 2000 by James Hong and Jim Younga allows users to rate the "attractiveness" of users photos submitted voluntarily by others. The site offers a matchmaking engine called 'Meet Me' and an extended profile feature called 'HOTLISTS' and was mostly focused on a Home Computer use and met a huge success in U.S.A.
Kisstagram.com launched on the 7th of June and it  had 325,000 votes and about 25,000 visits at the time. The instagram account has 550 followers in just 2 weeks and will probably grow rapidly.
.
Pedro Duarte founder of  Kisstagram had the great idea to transfer the concept to our Instagram world. This tool takes directly the pics from Instagram feeds. Pedro Duarte is a Brazilian young guy of 23  living in London. Check his own feed here @peduarte.
.
How Kisstagram works?
.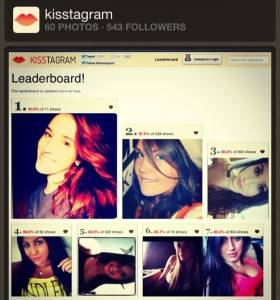 – Instagram Users submit pictures of themselves by tagging their photos with #kisstagram and they automatically appear on the website ready to be voted on.
– Visitors click the photo of the person they would most like to kiss, and the most "kissable" girls are shown in a leaderboard.
– You can also log into Instagram through the site to 'like' the photos, and even follow the users who took them.
.
About the website, Pedro tells us   "We have a strict set of rules for entries and we moderate the photos to keep the quality high." and he informs us exclusively  "We are also launching a gay version soon, so watch this space"
Remember you can "Flick" through thousands of members and find the ones you want to kiss on www.kisstagram.com and follow them on Instagram and  Twitter: @kisstagram and you can find more information here.
 Related articles: How to find love in Instagram? 
.
Let´s Instalove the world!
@philgonzalez