London Tube Photo Mission in Instagram
.
On a chilly Saturday morning 28 January 2012 a group of six London Instagramers set off on the early shift of a mission to photograph every station on the Circle Line of the London Underground, which runs through the central part of town.
.
Starting at Hammersmith, we took a few snaps and jumped on a tube and continued to hop on and off nine of the ten stations (one was closed) to our first rendez-vous point at Baker Street, home of the famous detective Sherlock Holmes!
There we picked up a few more intrepid explorers and set off in a clockwise direction on the second leg ofthe mission, heading towards King's Cross, which is a major international interchange.
After taking time to explore a labyrinth of  tunnels and the Eurostar terminal at St Pancras, we set off again towards our next stopping off point, and lunch in the Dirty Dicks pub at Liverpool Street. After recharging ourselves as well as our iPhones, we set off again,having picked up some new Instagramers.
Our next stop was Aldgate, a poignant moment as this was one of the tube stations that fell victim to one of the 7/7 London bombings in 2005.
Moving on we headed back into the tunnels and yet another refreshment stop at Embankment station, and a quick(ish!) visit to the Ship and Shovel pub.  These tube missions are hard work!
Here we picked up two more friends, one of whom was a representative of Transport for London, who we quickly recruited to Instagram!
.
One of the funnier moments on our trip was coming across a hen party at St James's Park station.
Unfortunately, our covert street photography skills let us down and they were soon waving and posing for us!
..
A few tired Instagramers had left us by now but the stalwarts soldiered on wearily to our last stop at Paddington, where four of us made it, but just three had managed the whole trip.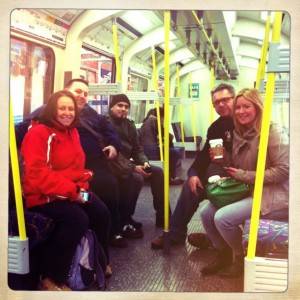 So we celebrated with a drink at the Mad Bishop and Bear pub at Paddington Station.  In all we took in 32 of the 36 stations as some of them were closed for refurbishment.
London Instagramers taking part to the Photo Mission were: @eurokeith @chelseadebs @miss_jess @rugfoot @stepyuk @fabienb @ash_ldn @ikebana_jen @lanijacobs @knitterbird @atmoorehead  @dickinsonmark @albiestar
We felt a great sense of achievement at getting round the whole line, meeting lots of London Instagramers, old and new, and just having fun!
..
We are now making plans for our next mission on the Northern Line……should anyone be prepared to accept it!
Let´s Instagram the London Tube!
@igersLondon team are @chelseadebs and miss_jess
The Hashtags used were:
#photomission See gallery here!
#circlelinephotomission See gallery here!
#instameetlondon See gallery here!