Love for Ale  – An IG Love Story (Book Fundraiser)
.
An IG Love Story via @WeAreJuxt
.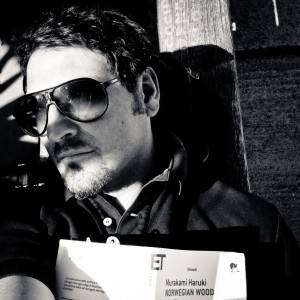 Most of us are drawn to our various social networking sites because of the interaction they provide us, the interpersonal relations with friends both near and far, the glimpses into the lives of people we may never meet, in the far corners of this ever-shrinking world. I call them my "imaginary friends," and I'd imagine that most of you reading this understand what I mean.
Alessio Castaldo has a natural talent for fostering these relationships. Not only does he have an eye for amazing photography, but he takes an interest in people's stories and always offers encouragement and positive feedback from his beautiful heart and soul. As the founder of Life to Music on Instagram, co-founder of The Minimals, and a regular contributor to We Are Juxt, he truly embraces the community aspect of social networking, and has built a wonderful loving community around himself.
In the same year he turned 40 and welcomed his first child, Ale was diagnosed with cancer, seven years after his first bout with the disease. Those of us in Ale's "Inner Circle" (as he refers to us) have been devastated by this news, as he has become a dear friend and a brother to us. We have pulled together to help Ale and his family in the only way that makes sense – through our photographs. We have compiled a collection of gorgeous and evocative images, the theme of which is simply, "Love." It is one of Alessio's favorite subjects, and perfectly conveys the origin of this collaboration. It is the pictures that brought us all together, and the Love that has gathered us into a global family.
The response to this project was overwhelmingly positive. The reaction of every friend we asked to participate was: yes, of course! For me, this project is the perfect expression of the higher power of social networking – people coming together to do good for a friend in need. Some of the contributors are professional photographers, and without a doubt, all are artists, but none expects compensation for his or her work. 100% of the proceeds of this book will benefit Alessio and his family, to help defray his medical costs. It has indeed been a labor of Love for all involved.
There is a lot of talent on these pages, many of the names you're sure to recognize. There is aCOUPON CODE*: "ALEMR4TM" for 25% OFF, which will run until 2/08/13. Thanks to Blurb, we are able to give you such a great offer. Please note, January 31st is the last day to place your order for Valentine's delivery.
Please take a look!
.
Click here for direct link to the book:  "Love"
.
Ale's Inner Circle
.
Contributors to "Love"
.
Anna Cox – Asia Janczak – BP – Bridgette Shima – Carlotta Bruno – Christian Baric – Christina Nordam Andersen – David Norbut  – Francesco Castiglione – Gabriele Migliaccio – Giulio Giacconi – Graham Preston – Grechen Steele – Heidi Kehler Taylor – Jane Schultz – Jen L. Phillips – Joanna Dunford – Johnny Michael – Kael Rebick – Laura Peischl – Layal Arous – Leif Stark – Leisa Doherty – Marco Sartori – Marita Hodges – Matt Coch – Melanie de Krassel – Mellow Longfellow – Meredith Peyrot – Mike Hill – Naomi – Nei Cruz – Niall O'Leary – Nicholas Carron – Nikos Nikiforakis – Ope Odueyungbo – Raffamuffin  – Rianne van de Kerkhof – Richard Koci-Hernandez – Sabine – Sam Smotherman – Sarah Mizrahi – Scott Johnson – Star Rush – Stefano Lauriola – Tammy George – Tara Morelli – Thomas Kakareko – Tim O'Brien – Tina Berg  – Tony Marquez – Yvonne Bouman
—————————-
Please consider purchasing this book.  All proceeds will go towards the medical bills for his treatment.
Big Thanks to Blurb for their support of the mobile photography community!
We are pretty proud of our partnership with the great folks at Blurb. See their article on Juxt!
*Offer valid through February 8, 2013 (11:59 p.m. local time). A 25% discount is applied to the product total for a single copy for "love." by Inner Circle  Maximum discount is USD $16, GBP £10, EUR €13, CAD $17, or AUD $18 off product total. This offer is good for one-time use, and cannot be combined with volume discounts, other promotional codes, gift cards, or used for adjustments on previous orders. Please note, January 31st is the last day to place your order for Valentine's delivery.
@wearejuxt