My World Shared exhibition 21-23 October 2011
.
Last weekend, crowds packed out East Gallery in London for the London Instagramers' first ever photograph exhibition.
.
Over the three days of the exhibition, more than 1,000 people passed through the gallery doors, to see the photos and meet the people, and to interact with this new form of entailment. Instagramers and non-Instagramers alike hailed the event a triumph, thanks to the photos and the hard work, the buzzing atmosphere, the enthusiasm of the exhibitors, and a lively curiosity about Instagram itself, which has been described as "a new entertainment platform".
.
Check here A selection of Instagram photos from the @IGersLondon photography exhibition at East Gallery, Brick Lane.
..
The collaborative project was co-ordinated by @miss_jess and @chelseadebs, with considerable assistance from @davechapman, @mahadewa and @dutchie68.
.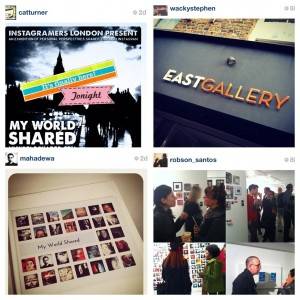 For many visitors to the gallery, Instagram was already a part of their lives; for others, it was something they'd heard about from their friends or on other social networks. Many people passing through the vibrant Brick Lane area of London just dropped in to see what the fuss was about, but everybody seemed curious about the concept of an iPhone app in an art gallery, and they seemed impressed with the results.  People travelled from far and wide: from Dublin, Turkey, Barcelona, and Moscow, to name a few!
.
Each of the 28 exhibitors were allocated roughly 1 metre of gallery space to present themselves through their work: to share their world as they share it through Instagram.
The beauty and appeal of the exhibition was that no two exhibitors' work were alike. Each had their own style of images and their own unique style of presentation, from an interactive installation of images and sticky notes to a decorated football jersey, images fixed directly to the walls and more traditional framed images.
.
The Saturday was dedicated to a large Instameet, where over 50 fellow Instagramers met to put faces to the names and join in the fun.  It was great to see the reactions of Instagramers who, after many months of friendship and following on Instagram, led to hugs and smiles at meeting in real life for the first time.
.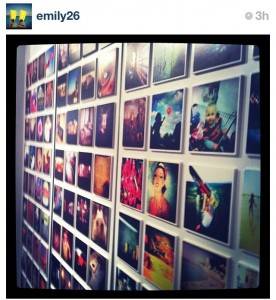 Instagramers from around the world could also follow the event through the #myworldshared live hashtag, the images of which were also streamed live on ipads displayed on the gallery wall.
.
The event was supported by a dedicated web site www.myworldshared.com and competitions on Instagram held in the run up to the exhibition were supported by StickyGram, MOO.COM. iStabilizer, youbiq.com, Olloclip, Keepsy, Instagoodies and VNA magazine
The event was sponsored by @therabbitagency @vnamagazine, splashlime.com and sailorjerry.com and a commemorative book of the event is also available through keepsy.com.
.
The @IgersLondon Team
.
.
Check The large coverage of the event in blog and press!
Telegraph: https://tgr.ph/uBBDww
Mashable: https://on.mash.to/oMHhPE
Metro: https://bit.ly/pIGLwX
Yahoo News: https://yhoo.it/sI6GPa
Web Pro News: https://bit.ly/r8ytdD
Read Write Web: https://rww.to/nXpy25
Le Cool: https://bit.ly/pAOCNb
View London: https://bit.ly/vpVAOt
Wallpaper: https://bit.ly/pUqu0O
Unlike London: https://bit.ly/ubhHh8
London Svenskar: https://bit.ly/s1ToBq
EConsultancy: https://bit.ly/rmuACm
CNBC: https://bit.ly/rxhXmu
Business Insider: https://read.bi/vvX2iH
PR Week: https://bit.ly/tIjcUe
The Wall: https://bit.ly/n3ylik
The Londonist: https://bit.ly/pT945Z
The Chronicle: https://bit.ly/ph4a9y
XYDO: https://bit.ly/u9PJDK
Maine Social Networking: https://bit.ly/qLnXoX
Fast Media Magazine: https://bit.ly/qgImxP
The Daily Edu: https://bit.ly/on7YBx
Sigalons Personality Soup: https://bit.ly/pJNQfw
World News Local: https://bit.ly/w0iEqB
Iphoneograpy: https://bit.ly/rfO6ge, https://bit.ly/nAZoEz, https://bit.ly/pDRVBn
Stuff to Tweet: https://bit.ly/tdp9sV
Iphone Universe: https://bit.ly/n7vW2j
Geek Sugar: https://bit.ly/q785FU
Runaround Tech: https://bit.ly/oX6Mhx
Apps Planner: https://bit.ly/nSOHIQ
Expert Lancer: https://bit.ly/n1UyHc
iApptive: https://bit.ly/ujbU1Z
Manmade Mag: https://bit.ly/mSxjLE
Tech 2: https://bit.ly/ru0iwa
Big Mouth Media: https://bit.ly/ppb3Vg
Contemporary: https://bit.ly/vMf4pB
Soup 4U: https://bit.ly/sLrIFE
Business Reel: https://bit.ly/vRhd6s
All Techie News: https://bit.ly/mB1ph5
Economics of Android: https://bit.ly/tFsOCM
Photoexls: https://bit.ly/uHIQYw
Geek Town: https://bit.ly/olxxU3
Wihas US: https://bit.ly/u6qDAr
Audiostream: https://bit.ly/tTLN7Q
Blog til you drop: https://bit.ly/hEVLfT
Help Portrait: https://bit.ly/sy7tv6
I C Active: https://bit.ly/rqDKDB
Yin and Yang: https://bit.ly/npLOwm
Tech News Cast: https://bit.ly/sZTCrq
Buzzbox: https://bit.ly/uiO0XB
Mobile Moot: https://bit.ly/w3c5B7
Blodic: https://bit.ly/pcc88e
Life While: https://bit.ly/v2AtDq
iDownload: https://bit.ly/q22J5S
iPhone Photo Life: https://bit.ly/tIdMmN
Periodista Digital: https://bit.ly/s5wjNG
Liquid News Room: https://bit.ly/rcXGZT
Complex: https://bit.ly/pAOCNb
The App Whisperer: https://bit.ly/oUVo3e
Allegro Creative Designs: https://bit.ly/qFDcE3
Scoop.it: https://bit.ly/af7aiK
Jenita's Digital Tumblr: https://bit.ly/qBzVcl
VNA: https://bit.ly/tCgEn9
MewLab: https://bit.ly/uVPs58
Advers: https://bit.ly/sW3qNO
Chelsea Debs: https://bit.ly/pHowL1
News On Stage: https://bit.ly/u5IIdB
iDrugged: https://bit.ly/nrFSjd
Tech News AM: https://bit.ly/ruZQ1K
Informed London: https://bit.ly/qzyoNR
Be Blog: https://bit.ly/r9uX40
Kuviajes: https://bit.ly/mYtX8E
TicBeat: https://bit.ly/n1vdGX
Geek and Tech: https://bit.ly/rox7c7
FHOX: https://bit.ly/umK333
Gope Go: https://bit.ly/uvqXRp
Detikinet: https://bit.ly/oNMVnv
Favlife: https://bit.ly/s6h1lw
El Economista: https://bit.ly/pd5AES
Telecinco: https://bit.ly/sQbaq9
Nuevas Tecnologias: https://bit.ly/pDQjWR
Seetio: https://bit.ly/nf0gaU