Nitrogram is renaming as TOTEMS
.
Here's the message: June 11, 2014 – Nitrogram is renaming as TOTEMS, as we bring our analytics platform (now TOTEMS Analytics) and our brand/creator partnership platform (formerly TOTEMS, now TOTEMS Connect) under a single brand. Here's why.
.
TOTEMS: a data-driven marketing suite for brands, focused on Instagram
.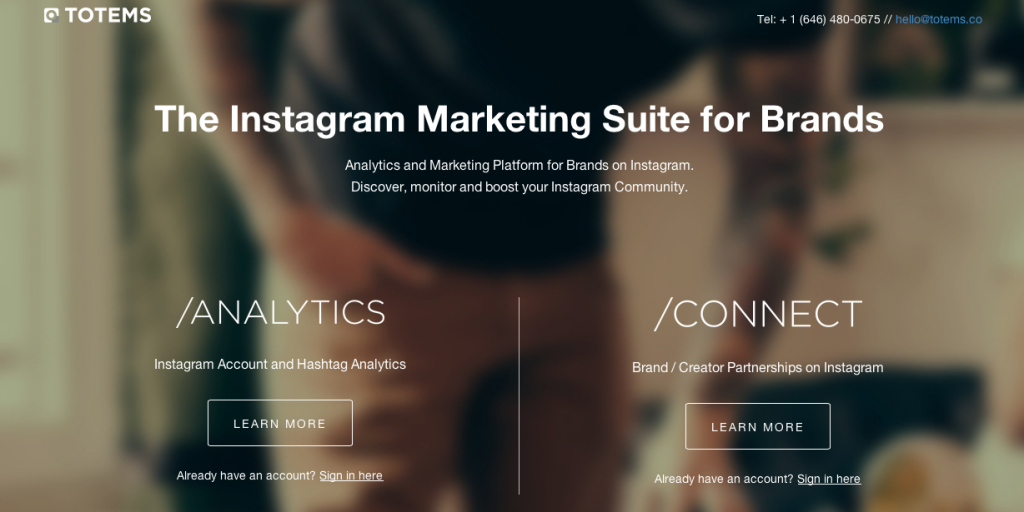 TOTEMS currently offers two platforms for brands looking to better monitor, understand and accelerate their presence on Instagram.
.
TOTEMS Analytics, known as Nitrogram until yesterday, will remain dedicated to providing in-depth monitoring and reporting capabilities around accounts, hashtags ands venues on Instagram. We work with hundreds of leading brands already, and are growing rapidly as more and more businesses open up to the tremendous branding opportunity that is Instagram. You can learn more about the TOTEMS Analytics platform here.
.
TOTEMS Connect is a transparent, real-time platform for brands and creators to discover each other and work together. "Influencer marketing" isn't new, but it is rapidly evolving. On Instagram, tens of thousands of creators share their preferences, their thoughts and their opinions about the products and services they interact with every day. But we feel it shouldn't be about "how many followers" a creator has. These short andpowerful stories can resonate just as effectively when shared with the right audience, which is at the core of our data-driven approach. We're very excited about the changes this means for brands and the way they'll need to connect with these "influential" individuals going forward. Thousands of creators are already members of our strong and vibrant community, with more joining every day. This is just the beginning. You can learn more about TOTEMS Connect here.
.
A word about the renaming itself
.
As API partners of Instagram, we fell within the scope of the update of their Terms of Service from August 2013, and knew that our name would need to evolve sooner or later. We've been working with Instagram do do this at a time convenient to us, and that time has come.
We wanted to bring both existing products under a single brand that would reflect our view that individuals' public visual posts have an incredible value, and that helping brands understand and benefit from these new forms of visibility and branding is key.
.
So why the name TOTEMS?
.
Technology has enabled creators to easily share their visual interpretation of the world they live in. To some extent, these visual creations have become totems, symbols bringing groups together, stories and continuously updated statements that have the power to inspire those they are visible to.
Instagram, the platform we currently work with, is a fantastic landscape for these "totems" to thrive in, and we hope to support all those who want to take part in the new ways these visual stories are being shared. Whether they are brands joining Instagram and looking for the best voice to adopt, or individuals who already contribute so much to the creative power of the platform, we believe we can help.
.

A sunrise from the TOTEMS offices in Paris, by our very own @gflandre
.
What changes: our name.
What doesn't: our determination to build the best platform for brands working on platforms like Instagram.
.
Thank you to the hundreds of you trusting us on /ANALYTICS.
Thank you to the many many more of you working with us via /CONNECT.
We're just getting started.
The TOTEMS Team
.
Keep up the good work friends!