Operation Broken Wings : Special Hangout by Instagramers Malaysia (video)
.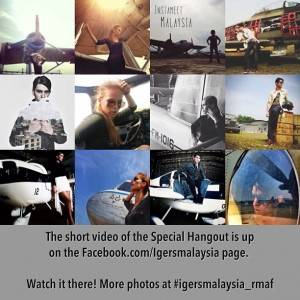 Instagramers Malaysia a.k.a @IgersMalaysia organized this special hangout for some of the instagramers and throw in a fashion shoot which brought much excitement and challenges as the shoot was done using smartphone only.
.
Actually it was an instameet but due to so many groups organizing instameet, we decided to name it Special Hangout.
We met at the RMAF (Royal Malaysian Air Force Museum) where we used the planes exhibit as our backdrop.
To make it 'very special', we brought in a team of stylist, makeup artist and two models for this meet.
And the Instagramers shot the editorial with their smartphone. It was quite a good experience for everyone as most of them don't have the chance to shoot actual models.
The shots turned our very well and can be viewed at #igersmalaysia_rmaf
.
@thrumyiphone4 from @IgersMalaysia
. 
.