Participate to My Puglia Experience and become an official Storyteller during one week!
.
You could be one of the lucky 24 storytellers who will live the great experience of traveling through Puglia
.
Instagramers Puglia and Instagramers Bari invites you to become a storyteller (that is, travel journalists) and photo and video model for a communication campaigns used to promote tourism in the Puglia region in Italy.
.
"My Puglia Experience" is a Regione Puglia project (South of Italy) to promote tourism in this land through three kind of travel experiences. Itineraries are dedicated to discovering the beauty of the history and art of Puglia, its traditions and excellent cuisine. From the Adriatic to the Ionian Sea, this trip traverses cities of art, archaeology, street art and UNESCO sites.
.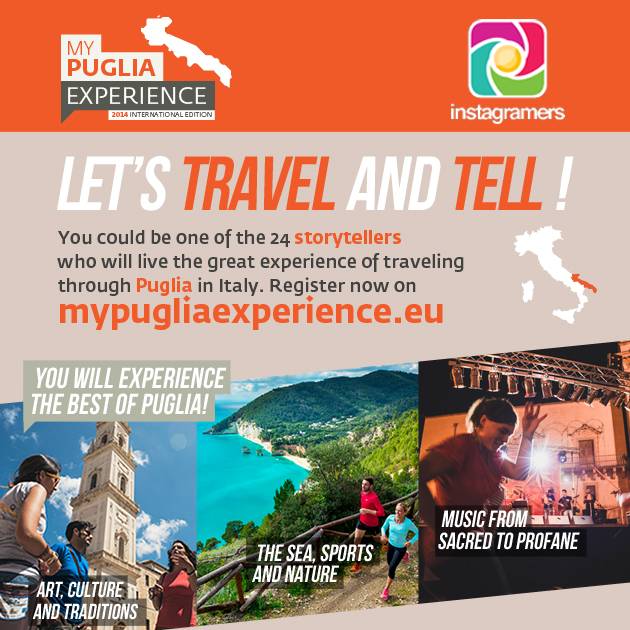 .

Young candidates must be: proficient in English, very communicative and able to adapt. They must also have a profile open on one of the main social networks (Facebook, Twitter, Instagram, Pinterest, GooglePlus, YouTube) that they use regularly with their contacts, friends and followers. Above all, they must be enthusiastic about new experiences, traveling in general and about the Puglia region specifically.
.
.
Young men and women from age 18 to 35 with the following nationalities may apply: Italian, Austrian, Belgian, French, Ger-man, Dutch, British or Swiss.
.
.
If you are selected you will live the great experience of traveling through Puglia during one week as official Storyteller!
.
In collaboration with @igerspuglia and @igersbari
.