PicFx Photo App. Funky, Fast and Funny!
.
Picfx, Transform your pics!
.
It´s funny but when an App is good and become successful. You can quickly hear about it everywhere. On Twitter, on best forums and of course in Instagr.am. This Photo Editing App called Picfx is present in all users streams and topics conversations.  Most of all if the Photo Editing App gives good results, fast processing and short learning time.
Few days ago my daily alert from AppGratuites informed me about a special discount for the launching of this app and the day after an IG friend @lumixg10 proposed me to write about it.
We decided then to dedicate few minutes to study it, do some pics and post them on our IG stream and the results went to be very good and received great expectations from other users. We were very Fan of Camera+ at Instagramers.com but we do think PicFx is a nice app for beginners who wish to have fun since the first steps. It´s our review this week! The Picfx App!
.
In this post Instagramers.com friend @lumixg10 brings us his own opinion about PicFx.
.
You can find an amazing array of photography apps in the app store, its actually one of the  biggest segments and a hip topic, today I wanted to talk about the new picfx.
It's based on the premise of the layer adding feature, most like any professional image processing software, there's a large amount of effects you can add to an image thus turning a rather bland image to unique piece.
If you're an Instagram-addict you've probably stumped with some really stunning pics, with a decided surreal-like style and an antique, grungesque look.
There's a whole lot of people using this app to change a regular image into an almost unrecognizable work of creativity and you wonder, what app did he used?
Here is a short review of the app.
.
First thing we need, of course, is an image to work on, in this case and only as an example, we will use an image from a single building with a little corner of blue sky.
The app is most intuitive, as most iOS apps, at first it will give two choices, either take a new pictura with the camera or load a picture from your library.
.
Once we have the picture at hand, we can start playing around.
.
This app basically offers 2 main kind of effects: Style and Textures.
In my opinion, the most outstanding feature is the textures. In the lower side bar you get a preview of each one. You will find a range of 28 Textures Effects from color, shadow, hue, frames to what is known as a "grunge" style plus some retro-looking effects with a dirty, careless texture.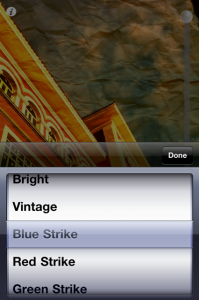 You'll definitely find your "Favs" effects soon…
.
One of the main advantages of this Photo App is the layering capabilities, which is essentially adding one effect above another, obtaining a rather unique and peculiar look on every pic.
In the lower tool bar, you will find "take a Picture" and "Add Existing Photo" icons. In the right side, a square  where you'll be able to save the pic or "commit edit" (like in Camera+) and add new layers.
.
The Stylize Button:
After you get the texture(s) that you like, you can use a last effect in "Stylize" Button. This option modifies other aspects as as Darkness, Light, Antique, etc.
This last option is very common on other Photos App in the market, so I don't consider it as a differential feature. But you will probably do some use of it.
Once you find a desirable outcome, you can save the image in your camera roll or share it in the social universe, Instagram for example.
PicFix is an attractive App for Beginners and Experimented Users as the results are cool and fast. However I would say that due to the infinite creative possibilities of this app, you can easily make the mistake to overdo your picture more than it should.
Be your own judge and remember that using Editing Apps is mostly have fun and let flow your creativity!
.
Article by @lumixG10
.
Pic and Diptic´s by @philgonzalez
.
Thanks to our friend @LumixG10 is an Amateur photographer, frustrated musician and Instagramoholic geek without regards.
You can visit is tumblr , twitter: @faap_de_oaid and flickr: