STAR4EU New European Flag by Instagramers
.
The idea is to give the opportunity to all fans of Instagram on the European territory or European citizens, to contribute to the creation of the NEW EUROPEAN' S FLAG – the new digital flag designed by Instagramers.
.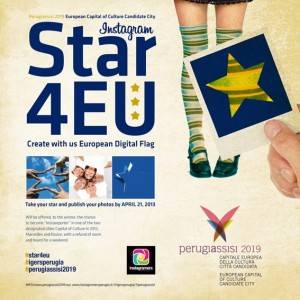 On 5 December 2012, we issued a challenge whose photographs show a star (of any type and origin), and published via Instagram by entering the hashtag #star4eu #igersperugia #perugiassisi2019.
.
The Challenge will terminate with the creation of European Instagramers's Flag thanks to all the stars published (twelve stars of the European flag are, in fact, to signify the union of all peoples).
.
The chance will be offered to the winner to become "Insta-reporter" in one of two cities nominated Capital of Culture in 2013, Marseille and Kosice, with a refund of room and board for a weekend.
.
The Photo Challenge opens December 5 2012 and closes April 21 2013 to allow us to select photos and arrange May 9 2013 (the date on which we will celebrate Europe Day) a closing event.
.
On 9 May 2013, the celebration of Europe Day, an event will be organized in the city of Perugia, celebrating the end of the challenge, in which will be presented the "Digital European flag."
.
Join our contest!
.
Laura Rondini and Maurita Passaquieti from @IgersPerugia (see facebook fan page)