The Biggest Instameet Breaks a new Instagramers Meet up Assistance Record
.

.
And it probably was!
With more than 235 people who joined Flash Flash Madrid Restaurant in Madrid
On November, 21st and thanks to @IgersMadrid
.
.
Last November 21 was the date! We were celebrating our 4th Instameet in our favorite hangout, Flash Flash Madrid. Here the recap!!!
.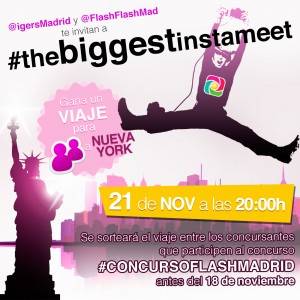 Our next Madrid event aimed to be the world's largest gathering of Instagram users in the world to date and we at least 235 people crossed the Flash Flash Madrid doors despite competing with Real Madrid important Football Match!
.
Flash Flash Madrid(@flashflashmadrid on Instagram) always supported Instagramers Madrid in our last two events in 2011 and teamed up with Instagramers again with an unprecedented hangout of Instagramers. Amazing, fun – and standing room only! Complimentary meals and cocktails for free plus DJ, Trapezio Argentines Wines, Samsung Smart Tv´s , Music and Lights!
The World's Biggest Instameet in Flash Flash Madrid

.
The party was really fun and it´s always a pleasure to see all these faces amazed when they discover others users and friends behind User Names!
Our partner Camaloon (@CamaloonAm on IG) sponsored us with great user names stickers. Thanks Camaloon!
.
Instagram Frames, Photo Albums and a trip to New York for two!
.
During the big party , there was full of surprises. We conduct a lottery to the all assistant with Instagram Frames sponsored by StudioYague and Instagram Albums by @Instagrafic (web)
During the evening Flash Flash Madrid gave away a one-week trip to New York for two people who participed during 2012 to their #concursoflashmadrid contest.
.
Party, fun and Pics
.
A pic worth thousand words so please check the great gallery by @Jimsk8 Instagramers Madrid´s friend (#FotoJIm) who made a great report!
.


 .
Remember you can follow our partner Flash Flash Madrid on Social Networks:
– Check out FlashFlash Madrid on Instagram,Facebook or Twitter.
– Find part of the people who joined at our Facebook Instagramers Madrid Fan page.
.
Thanks once again to @ignaciofood (owner of FlashFlashMadrid) and @flashflashmad and all their team on this #TheBiggestInstameet at Flash Flash Madrid, the best place to have "Spanish Tortilla" in the world.
.
@IgersMadrid Team