Welcome to Videos on Instagram
.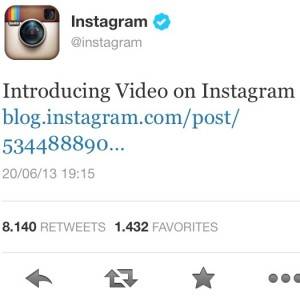 One year and half ago ago we mentioned on this article a rumor that Instagram was about to announce a Video Sharing tool within its app. Tech Crunch was right too and yesterday Instagram announced a new update. An update version  including Videos.
.
Although many "purists" and "early adopters" like me may be first "shocked" and tons of Instagramers could be against this video sharing upgrading, it seems Instagram (Facebook) minded its main competitor recent figures.
It' s seems Vine is doing really great and M.Zuckerberg could not probably bare this new headache based on successful 6 seconds videos.
.
What are the our thoughts as Instagramers?
.
Tons of "teens" will not care this new change and will just find it very helpful and funny.  A new way to share your life, your space, your hobbies…  "No need to go to Vine anymore!"
But many Instagram's early adopters and users who fell in love at the first wight with mobile photography thanks to Instagram will be a little bit lost. "What will happen with us now?"
.
There is of course tons of questions that come to our minds? Here some of them…
.
– What will happen with users activity? Will people split their free time between both areas.
– Will there be specific users for videos or others on photography side?
– Will there be a massive migration of mobile photography lovers to other social photography network? (Hope not it would be sad)
– What will happen if I simply don't use Instagram video service?
– What will happen with the discover page? The use of tags? (this one is quite clear as there is already video featured on the "discover" page as you can see on the caption)
– Will Spam and Bots affect Videos area too? (Big Lol)
And finally which worry us the most…
.
– Will Instagram lose his genuine flavor?
.
So many questions with no answers right now. Next weeks will be definitely very important for us, the Instagram' s Main Communities all over the world (or at least for those people who enjoyed Instagram as a photography network).
.
Personally, I think I will go on taking pics and sharing them the same way. I will definitely try video service and will use it from time to time and for fun.. But videos shouldn't change my way to behave on Instagram's photography side.
So… welcome to Videos on Instagram!
.
@philgonzalez
.
.
Instagram for iOS version 4.0 is currently available for download in Apple's App Store and Instagram for Android version 4.0 is now available on Google Play.
.
.
.
.