Win a VIP pass for the hottest event with the new Desigual contest on Instagram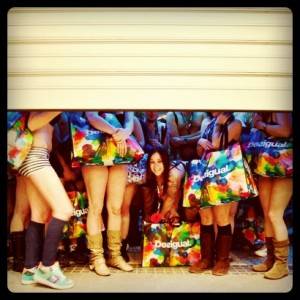 Desigual is organising an Instagram competition where you can win a VIP pass for the 'Undie Party'.  Desigual starts off the sales season by giving away a complete Desigual outfit, consisting of two items (one top and one bottoms) from the Spring-Summer '12 collection to the first 100 people to enter selected stores in their underwear. For that reason, the Desigual competition on Instagram gives you the chance to be one of the lucky ones without having to wait in line!
 .
This innovative sales campaign has already been held in previous years in cities like Barcelona, Lyon, Madrid, Berlin, London, Paris, Amsterdam, Lisbon, and even in the heart of Soho, NY. More than 4,000 people have lived and breathed this unique and fun, positive and carefree experience. Ready to join them?
 .
How to win a VIP pass to the hottest party this summer with Instagram?
.
Upload your best photos to Instagram with the theme: FUN, FUN, FUN.
Add the hashtags #desigualVIP and the city closest to you where the party will be held (for example, if you live in the French capital, add #desigualVIP #paris)
Get the most likes for your photo, sharing it on Twitter, Facebook… and you'll be the winner of your city
And follow @desigual to stay up-to-date with the latest in the competition.
You can start uploading your pics now until:
12 June 2012 at 23:59 if your city is: Geneva – Dusseldorf – Bucharest
18 June 2012 at 23:59 if your city is: Madrid
24 June 2012 at 23:59 if your city is: Bordeaux

Check out the chosen cities, because there's sure to be one near you:
 .
14 June 2012 – 9 am
Ginebra – Rue de Rive 10-12 –
Dusseldorf – CC. Sevens, Koenigsallee 56 –
Bucarest – Desigual Baneasa Shopping City
21 June 2012 – 9 am
Madrid – Preciados, 25
27 June 2012 – 9 am
Bordeaux – 75 rue de la Porte Dijeaux
 .
Have fun!
@philgonzalez
Stay up to date with the latest Desigual news at blog.desigual.com and find out all the secrets of the event on Facebook.