With VuelingAirGallery Contest in Instagram, your pics will fly around the world
.
We've got some great news… We've already carried more than 50 million passengers!
.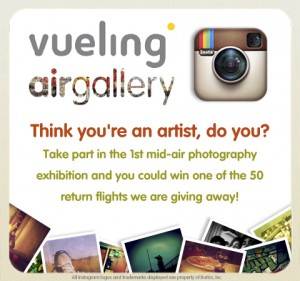 To celebrate this milestone big-style, we want your help in preparing the first ever mid-air photography exhibition! Do you want to be a part of the Vueling Air Gallery?
We're going to decorate one of our aircraft with a selection of Instagram photos of Vueling destinations. And we want you to be the photographer!
But that's not all… not only can you get one of your photographs up into the clouds but, if your photo is one of the 50 chosen by our panel of judges, you will form part of the Vueling Air Gallery book, which will travel to all the Vueling destinations on board that aircraft.
Here comes the best bit… each one of those 50 winners will receive a return flight to any Vueling destination from their nearest airport!
.
This contest is available in Spain, France and Holland!
.
Join the contest here in Facebook!
Want to know how to take part?
.
You need to show us that you're not only a great photographer but that you're also a big fan of your photo and that you want all your friends to see it. So…
1.      Use Instagram to take a photograph of a Vueling destination or apply your favourite filter to one you already have. The photograph doesn't just have to be of a Vueling destination, you can be in it too… but remember, it has to be an amazing picture!
2.      Give your photograph a title that includes the name of the Vueling destination in the photograph and the hashtag #vuelingairgallery.
3.      Click on the "I'm in!" button in the Facebook page and Accept the terms and conditions of the competition and fill in the form with your details.
4.      Do you like a challenge? You'd better… Because now you need to quickly go to the photo gallery where you'll find all the participating photographs and find yours to share it with all your friends so they can vote for it.
You'll need at least 10 votes for your photograph to be included for selection by the panel of judges and thus be in the running for one of the 50 return flights being given away!
That's right, you'll only be able to take part if you're an Instagram user.
For the rest of you, stay tuned to our Facebook page because we'll soon be revealing more surprises!
.
The team @vueling
.
Join the contest here in Facebook!