FlashOn 1.4: Pic "Hipstamatic Wall M.L King" by @poppad
.
This week, we discover more than a Pic, we meet a very good man and his beautiful shots of Philadephia´s Street Art. This "Pic of the week" is just one of the more than 2.500 murals in "Philly". Probably more than any other city in the world.
.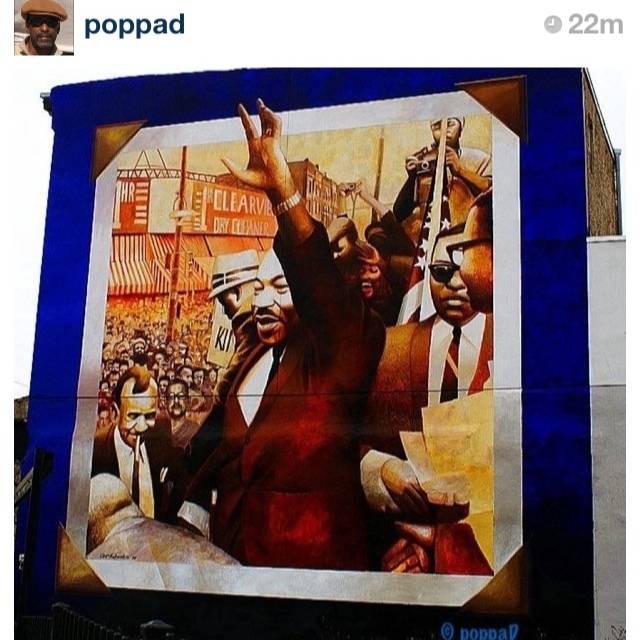 .
@poppad lives with his wife @ticalinda in Philadelphia.
.
I met my friend @poppad many months ago now in Instagram and I always followed his stream with a big interest. One day, I knew he was married with another nice person in IG @ticalinda and that made me smile. Because just by seeing their pics I could easily understand their personalities fitted very well!
.
@poppad is not as active in IG as he would like to but when he appears, he always offers nice shots. He post sometimes photos from his trips abroad and these last weeks, a lot from his hometown Philadelphia.
"In the 80´s, Philadelphia began supporting Street Art probably as a way to discourage graffiti" he says. "Instead of putting these young artists in prison, they are given a chance to work with local established artists in program to beautify the inner city. There is even a waiting list for businesses and residential homes to have their exterior graced with these beautiful works".
.
Recently, @Poppad decided to take pictures of all these walls and post them in Instagram.
I wanted to thank him to share with us this original side of his city "Philly".
"There is more than 2.500 in the city, so you see my friend, I am just getting started and have a long way to go!"
.
Thanks for your pics @poppad and your happiness (and @ticalinda ´s too)!
@philgonzalez